So, Pretty Little Liars Just Brought A Character Back From The Dead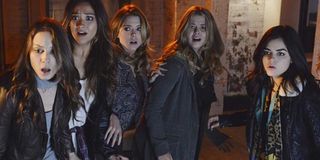 Spoilers are abundant in the article, below, so if you aren't caught up on Pretty Little Liars, we suggest you turn your pretty little arse around and skedaddle!
After five seasons on the air, ABC Family's Pretty Little Liars has made good on its promise, revealing the identity of "A" during the show's finale on Tuesday night. During the episode, the Pretty Little Liars finally met "A," who just so happens to be Charles DiLaurentis. Even more shockingly, Mona was revealed to still be alive.
That's right, the student who was formerly revealed to be the original "A" at the end of Season 2 before getting brutally murdered in her home during the Season 5 summer finale was actually not murdered. Apparently, she had been locked up in DiLaurentis' trippy funhouse for some time before the other girls showed up. She's been pretending to be Ali for quite some time in the funhouse where DiLaurentis is now keeping all of the girls. Look at this creep.
Even though we know very little about DiLaurentis, his reveal was of an epic proportion, similar to when Gossip Girl revealed who Gossip Girl really was. In Gossip Girl's case, GG was actually a notable character, but on Pretty Little Liars, it looks as if he will be a notable antagonist. By the end of the episode, the girls had escaped his creepy home, but not his creeper clutches, and were still stuck behind a fence on his property.
But have no fear! Pretty Little Liars has already been renewed for a sixth season (as well as a seventh season!), and executive producer Marlene King recently told E! that the ABC Family drama will be experiencing a huge time jump… just not immediately. Early on, we'll see the girls graduate and head to college, but by the end of the season, the show plans to jump ahead to show them as college graduates. That's right, Pretty Little Liars is planning a four-year time jump.
Suffice to say, the girls are eventually going to be able to break away from DiLaurentis' grasp and figure out why they've been dealing with "A" for so long. Still, we do have a little while to wait. Recently, it was revealed on Twitter that Pretty Little Liars will return in June of 2015. The title of the Season 6 premiere will be "Game On Charles."
Amazing Race & Top Chef superfan with a pinch of Disney fairy dust thrown in. Theme park junkie. If you've created a rom-com I've probably watched it.
Your Daily Blend of Entertainment News
Thank you for signing up to CinemaBlend. You will receive a verification email shortly.
There was a problem. Please refresh the page and try again.