SpongeBob Could Lose Its Squidward After He Was Arrested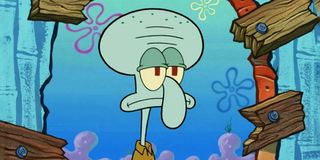 There may be bad news coming to Bikini Bottom. This week, SpongeBob SquarePants voice actor Rodger Bumpass was arrested on a DUI charge. He's been outwardly vocal regarding the charge from the police, but not necessarily in a way that has drawn good attention to the DUI arrest. New reports indicate that the arrest could lead to Rodger Bumpass being out of a job in the coming weeks.
As we don't expect you to be intimately familiar with all of the voice actors involved with SpongeBob SquarePants, we will let you know that Rodger Bumpass voices Squidward on the series. So, while he doesn't actually voice SpongeBob himself—that honor goes to Tom Kenny—he's still a really well-known and important actor on the show. In fact, Bumpass is credited for having voiced Squidward in nearly 200 episodes of the popular animated program, so his voice has been around for a long, long time. He's also done voice work for Nickelodeon's big screen SpongeBob movies, so it's safe to say the cabler values the voice actor. However, according to TMZ, Bumpass has already spoken with Nickelodeon and his future is unclear.
We know that Bumpass was arrested after failing a field sobriety test on Friday night. Reports indicate that the man was found by the cops standing outside of his PT Cruiser but that Bumpass may have admitted to driving while under the influence during the course of events. What's clear is that the man was inebriated, so whether or not the DUI proceeds to go through the court system, that may not be the image Nickelodeon wants to project. The network will have to decide whether or not a DUI outside of work is enough to take away the man's livelihood.
Honestly, in the scheme of things, SpongeBob SquarePants will live on. I can't imagine Nickelodeon or even the SpongeBob creative team would be keen to just cut Squidward out of all SpongeBob-related projects. Thus, if Rodger Bumpass is fired, the network will likely keep the character and just hire another voice actor to play Squidward. This is the same thing that Sesame Street has done over the years as people have retired or moved on to different projects. Unfortunately, the circumstances are very different.
SpongeBob SquarePants has been around since 1999 on Nickelodeon. Recent focuses for the franchise have included the partially live action adventure SpongeBob: Sponge Out Of Water and The SpongeBob Musical, which is expected to launch in Chicago this coming summer. If anything, I'm guessing Rodger Bumpass probably has a few royalties checks he'll be able to rely on should he lose his high-profile voice-acting gig. Still, Squidward would never be quite the same, would he?
You can find out what else TV has coming up here.
Your Daily Blend of Entertainment News
Reality TV fan with a pinch of Disney fairy dust thrown in. Theme park junkie. If you've created a rom-com I've probably watched it.