Star Wars Live-Action Series May Happen At ABC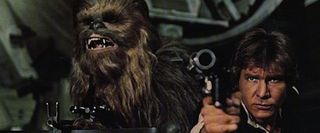 When it was announced that Disney bought Lucasfilm, we were left to wonder what it might mean for the franchise as it relates (or could relate) to Disney's TV channels, which includes major network ABC. With the deal finally complete, ABC entertainment president Paul Lee has offered a few vague comments on the subject of a potential Star Wars TV show.
EW spoke exclusively with Lee on the subject of a Star Wars series, and from his comments, it doesn't sound like anything has been decided, but the people at ABC are going to look at their options.
EW goes on to break down some history on what's been worked on in the way of potential Star Wars series in the past, mentioning Lucasfilm producer Rick McCallum bringing in writers like Ron Moore (Battlestar Galactica) to work on it. From the sound of it, the budget was a major issue, with the show costing an estimated $5 million per episode. But with Disney owning Lucasfilm now, the budget situation might change enough for a live-action series to be possible.
There's also the matter of the planned Star Wars movie sequels. As EW puts it, "Cautious brand managers are sometimes reluctant to have a live-action TV show on the air when producing live-action films." The site doesn't specify or speculate why that is, but it could be a concern for maintaining continuity if not just a general preference for containing a brand/franchise to one medium at a time, perhaps for marketing reasons.
Lee brought up S.H.I.E.L.D. and Marvel, presumably referencing the pilot that's in the works at ABC, which will focus on the organization featured in Marvel's Avengers. Joss Whedon's pilot is said to be "attached to" but not about the Avengers, and with a planned sequel to the 2012 movie, the potential S.H.I.E.L.D. series would be an example of a TV show that's directly related to a current film franchise.
With the vast Star Wars universe as a backdrop, perhaps there is room for a live-action series that doesn't step on the toes of whatever's planned for the feature sequels, assuming continuity is a concern.
At this point, it doesn't sound like they have anything specific in the works just yet, but on the bright side, now that the acquisition is complete, talks can begin, so who knows what news we might hear on this subject in the future?
EW offers some more interesting information on the project McCallum was working on, including reported plot details and how the premise for the project was used for the upcoming Star Wars video game 1313. Read more about that here.