Steven Weber Lands On Brothers & Sisters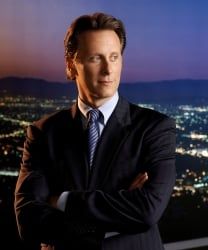 Studio 60 may have died a swift death last season, but at least one of its stars is returning to TV. Steven Webber has just joined the cast of Brothers & Sisters. Now if, like me, you're behind on the show, you may want to just stop reading right here, because Weber's role is one big Spoiler Warning.
According to TV Guide, Weber has signed on for a "significant arc as a love interest for [Rachel] Griffiths' soon-to-be-single Sarah." The circumstances surrounding their love affair seem pretty standard: The Walkers are looking to expand the family business, so they bring Graham Finch (Weber) on a consultant. He and Sarah butt heads at first, but she of course ultimately succumbs to his charms.
Don't expect this to be a standard boy-meets-girl story though, as sources say that Finch may have something to hide. Does it have anything to do with the massive amounts of plastic surgery Weber seems to have gotten since his Wings days? Because the first time I saw him on Studio 60, I kind of thought his character may have been in a fire. But hey, I guess some girls dig the "tight and shiny" look.
Brothers & Sisters airs Sundays at 10:00 PM on ABC.
Your Daily Blend of Entertainment News