Summer TV Off To Slow Start With Lackluster Ratings For Saving Hope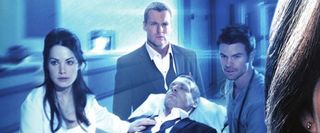 Ratings in the summer are almost never as good as their fall, winter, and spring counterparts, but with a slew of new television, I was hoping this summer's fare would perform better than usual. Unfortunately, we have a bunch of average fodder and some equally average-to-low ratings running on the networks right now.
Last night proved to be dismal for NBC, which saw Duets drop yet again, as well as saw Rock Center with Brian Williams still not earn many viewers in its new timeslot. On top of this, freshman drama Saving Hope--which follows surgeon Alex Reid (Erica Durance) trying to deal with the aftermath of her husband's accident while her husband, Charlie (Michael Shanks), finds he can roam the hospital in spirit form--also did not do well. Over the long haul of the night, NBC only brought in 11.5 million viewers, 5.4 million for Duets, 3.3 million for Rock Center and 3.1 million for Saving Hope. I'm super stoked for Michael Shanks to have do some non-science-fiction work on TV, but if the show continues to lose to Rock Center it really is not looking good.
Saving Hope was not the only premiere last night. According to TV Line, Fox's The Choice did a bit better on its first run, earning 4.2 million total viewers. Fox's other new show, Take Me Out fared a little worse, only pulling in 3.3 million total viewers. In a giant middle finger from CBS, a rerun of The Big Bang Theory earned 8.2 million viewers. I still have my fingers crossed for some of the new summer programming, but seriously, these programs need to step up their ratings game a bit more if they want to truly compete. Losing to reruns is never good, but getting massacred by reruns is just pathetic.
Your Daily Blend of Entertainment News
Thank you for signing up to CinemaBlend. You will receive a verification email shortly.
There was a problem. Please refresh the page and try again.