TLC Gives Toddlers & Tiaras Star Alana Her Own Reality Show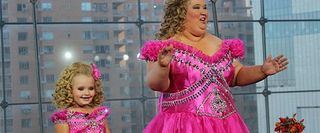 If I had to pick one TLC show to have a spinoff, I can say with certainty that it wouldn't be Toddlers & Tiaras. But TLC apparently disagrees; they have given Toddlers star Alana aka "Honey Boo Boo" her very own reality show, extending the cringe-fest that is TLC's look at the toddler pageant world into Alana's behind-the-tiara private life.
Deadline says TLC has ordered six episodes of Here Comes Honey Boo Boo to begin airing in August. The show will look at Alana's off-stage life on her family's rural Georgia property, where she apparently does entirely un-beauty-queen-like things such as four-wheeling through the mud. Oh, and dining on road kill. It sounds like an effort to fit as many stereotypes about rural Southerners into one half-hour as is humanly possible – if they're trying to make her look like a normal child, I can say with certainty it's not going to work.
Toddlers & Tiaras, a series that focuses on young girls who are put into beauty pageants by their parents and parading around in more makeup than the average Hollywood star, has been one of those train-wreck hits that seems to keep people mesmerized. Alana is easily the most recognized of the young girls on the show. Apparently her parents have decided that parading their six-year-old in front of strangers to prove her worth isn't enough; now it's time to have cameras follow her everywhere she goes. Some lucky therapist is going to make a killing off this girl one day.
Your Daily Blend of Entertainment News