True Blood Watch: Season 4, Episode 11 - Soul Of Fire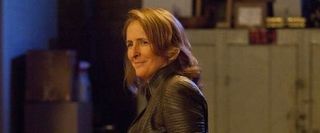 About halfway through tonight's episode, I had to double-check to confirm that this was in fact, the second to last episode of Season 4 and not the finale. Everything seemed to be wrapping up too quickly and then, cliffhanger! And a good one at that. One more episode to go before Season 4 finishes up!
"I bind you Nancy..."
I feel like The Craft lied to me. I thought a binding spell was to stop Nancy from doing harm against herself and harm against others. In True Blood lore, a binding spell apparently means locking a ghost's spirit into ones body. This is what Marnie did after Antonia attempted to evacuate the dance floor, deciding that she'd had enough of Marnie's power-hungry shenanigans. Antonia definitely wasn't down with Marnie's quick decision to kill one of her captives and tried to leave.
Love was put to the test in more ways than one tonight. Let's break it down by character:
Sookie
Once again, fueled by the need to stop bad things from happening to the people she loves, Sookie used her blue-blast power to stop Marnie from forcing the vampires into her sunlight forcefield which, as we learned from one of the random vampires serving Antonia, turns vampires into a petrified wall of goo. Nasty business. Sookie's repayment for throwing light at Marnie was to be encircled by fire and nearly burned to death. Fortunately, Jesus and Lafayette were on the ball in the other room, gearing up to get Antonia (and her power) out of Marnie.
Bill and Eric
Before all of this, Bill and Eric were about to consent to be subjected to the true death if it meant Sookie was set free. Both showed that they were fully prepared to die for Sookie. This is certainly going to add a fresh layer of complication to Sookie's "I love them both" issues. Their love for her is apparently equally sincere.
Pam
Pam refused to allow Eric, her maker, meet the "true death" in exchange for Sookie. After referring to Sookie as Bo Peep (heh), she used a bazooka or some otherwise huge rocket-gun thing and shot it at the forcefield. The blast backfired, nearly killing Jason in the process. Later, during a brief lull in the mayhem, Eric promptly sent Pam away, angered that she would put Sookie's life in danger. His reaction to her attempt to save his life is another demonstration of how much he loves Sookie. I can't imagine Eric will stay angry with Pam for long, though. There's too much history there. I think this is just a mark of how his priorities have changed and how it affects his relationship with pam.
Jessica
Jessica and Jason's interactions were strained at the start of the episode, however that went away when Jason nearly died from the blast at the forcefield. Once again, a life or death scenario thrusts a Stackhouse into the arms of a vampire. We know how this story goes. Jessica fed Jason with her blood and the two seem to be back into "so wrong-so-right" territory. That aside, I think there's genuine affection there.
Marnie
Marnie demonstrated her love of power tonight and when she glimpsed the future in the blood on the floor, she did what she could to avoid it. It was no use though, as she ended up dying exactly as the blood-puddle told her she would. When Jesus' spell freed Antonia and Marnie's magic was sapped, the vampires headed straight into the MoonGoddess to serve up some vengeance. The devoted Roy put himself between Marnie and the vampires. Then Eric put Roy's heart between him and Roy. He sipped from the still-warm muscle while staring at Marnie, after which Marnie was shot and killed.
You would think this would've ended things but, as we learned at the end of the episode, Marnie's business is unfinished and she's using Lafayette's body as her way of fighting back from beyond the grave. Once again, I fear for Jesus' safety!
Fairy Encounter
While all of this was going on, Andy was doing his walk of redemption when he encountered a fairy named Morella. She made some kind of promise to him, complete by poking his finger with her glowing finger, and then they did it on the ground. Sex outside seems to be the theme of this season. If you ever visit Bon Temps, it's probably a bad idea to walk around outside barefoot with everything that goes on on the ground down there.
Andy seemed baffled by his encounter with the beautiful fairy and, after he shared the experience with Arlene, she reminded him of his ongoing thing with Holly. I nearly forgot about that.
Broken Up
While the witches were fighting with the vampires, things were just as messy with shifters and werewolves, though their business was completely unrelated to the other Bon Temps drama. Marcus took off with Emma, causing Luna to freak out. Meanwhile, Sam was just as angry at Marcus for having killed his brother. Meanwhile, Marcus was busy trying to convince Debbie to stay with him and raise Emma with him.
Alcide and Sam confronted Marcus and, in a fit of jealous rage, Alcide broke Marcus' neck, after which he dumped Debbie in a sort of formal, almost ritualistic way, going on about not sharing flesh with her or hunting with her. Whatever it was, it sounded official and it devastated Debbie. Where this is going, I don't know but we know Debbie's already back on the V.
One more episode to go! What will Marnie do with Lafayette's body? We'll find out next Sunday!
Kelly joined CinemaBlend as a freelance TV news writer in 2006 and went on to serve as the site's TV Editor before moving over to other roles on the site. At present, she's an Assistant Managing Editor who spends much of her time brainstorming and editing feature content on the site.
Your Daily Blend of Entertainment News
Thank you for signing up to CinemaBlend. You will receive a verification email shortly.
There was a problem. Please refresh the page and try again.