True Detective Season 2 Will Have A California Setting And 3 Leads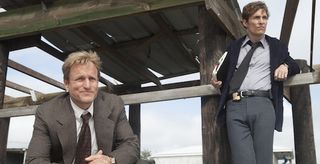 As of late, the only thing we really knew about the second season of HBO's True Detective was that Matthew McConaughey would definitely not be coming back for Season 2, which will center on a new crime and a new set of characters. And that, despite reports to the contrary, Jessica Chastain was not cast as one of the leads. But we now have some actual clues about Season 2, courtesy of True Detective creator himself, Nic Pizzolatto, who says the second season will center on three lead characters.
True Detective creator Nic Pizzolatto had some interesting things to say about the process of getting True Detective made when he spoke on the To the Best of Our Knowledge podcast. Near the end of the conversation, he's asked about the second season, and Pizzolatto shares some new details about what's in store:
I love hearing that he's "deeply in love" with these new characters, especially when we take into account how crucial our investment in detectives Rust Cohle and Marty Hart was with the first season. Their story -- or their versions of the story -- were the driving force of the season. We'll have to start all over for Season 2, which will introduce us to a new story and new characters. Knowing Pizzolatto is already invested in them is certainly promising. He also mentions a vague non-Los Angeles California setting. California is a big state, so this story could be anywhere, but I'm guessing when he says "lesser known venues," he means somewhere outside of the major cities entirely, but who knows?
And then there's the casting. It sounds like we'll be hearing official word on that this summer, as the process of finding the leads will begin in the coming month. As we mentioned, there was talk of Jessica Chastain fronting Season 2, however that was quickly debunked. Right now, there's no cast confirmed for Season 2 of True Detective.
You can listen to a portion of the Nic Pizzolatto podcast streaming online or download the extended interview, which runs for about 40 minutes and focuses mainly on the first season, as well as Pizzolatto's experience writing for HBO and television in general. He talks about having a blind pilot deal at HBO. That pilot didn't go to series, but it sounds like it was his foot in the door at the network, leading up to eventually pitching True Detective. He also shares some thoughts about his choice to go toward TV rather than film. If you're a fan of the show or good TV writing in general, download the full interview. It's well worth a listen.