Twilight's Billy Burke Gets Moved To The Lead In NBC Drama Pilot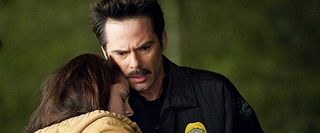 Twilight star Billy Burke has gotten a promotion over at the NBC drama he joined earlier this month. He was set to play one of the Marines in the pilot, but with the project already in production and the lead still not cast, apparently Burke earned himself a bump up to the starring role.
Billy Burke, who is known as the father of Bella Swan in the Twilight films, joined the cast of the NBC drama, which at the time was titled Revolution, to play a Marine who, along with a group of other people, is attempting to find loved ones in a world where all forms of energy have somehow ceased to exist. The now untitled project is being directed by Jon Favreau, and was still on the hunt for a lead as it went into production last week. Burke must have made an impression, as Deadline reports he has been cast in the lead role as Miles who is described as "resourceful" but having a "dark and dangerous" side. The role Burke was originally set to play will need to be re-cast.
The move is a big one for Burke, as it could be his first series starring role. He's done some guest work on My Boys and in a few other roles, but definitely needs something big to shake off the Twilight glittery vampire dust. Now if only the project can come up with a new name and a decent explanation for the premise: all forms of energy on earth are simply gone and no one knows why?
Your Daily Blend of Entertainment News