The Voice Season 4 Premiere Highlights What Shakira And Usher Bring To The Table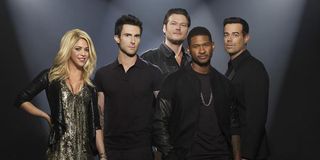 For a show that's supposed to focus on the contestants, the introduction for Season 4 of NBC's The Voice highlighted the judges, which was pretty fitting for the new season, since new judges Shakira and Usher had yet to prove their value. It didn't take long, however. The two new Voice judges weren't shy about turning their chairs around when the contestants came calling, nor were they shy about bantering with their judging counterparts, Blake Shelton and Adam Levine, who have racked up three season wins combined.
As it turns out, Usher and Shakira are nothing like Cee Lo Green or Christina Aguilera when they take the stage. Gone during last night's episode were the white cats and ostentatious jewelry Cee Lo used to favor and gone also was Aguilera's attitude, which could occasionally border on unpleasant. Shakira focused on charm to get what she wanted out of contestants, also coming off as likeable when she teased the boys. Usher didn't seem to need that charm, instead opting to give his own version of Zoolander's "Blue Steel" gaze when vying for contestants. The cool, calm and collected thing really worked for the singer, because when he did speak to contestants he would make major flubs, like calling Nashville a state.
Early in, the new judging formula seems to be working for NBC's hit singing competition. I actually was really impressed by Shakira's efforts during Episode 1. The singer is great just riffing off the cuff, but she also has a capacity to slow down and spend a considerable amount of time carefully choosing her words during a critique—an effort no doubt helped by the fact that English is not the singer's first language. Usher, too, knows a fine voice when he hears it, and his excitement level over a few particular singers was worth a watch. However, it seems there may be troubled waters down the road.
The biggest problem with this cast of judges is that there is no weirdo. Levine, Shelton, Shakira, and Usher all come from different musical perspectives and have different talents, but the problem is, they are all pulling from the same pool, looking for the right vocal timbre, the right control, and an emotive singer. All of these things are great and definitely desirable in a competition like The Voice; however, when it comes to a singing competition show with mentoring like NBC's, there really needs to be someone like Cee Lo Green to stir things up a bit.
Cee Lo may never have won a season of The Voice, but he always took a chance on the outliers, the men and women with voices that may have been a little weird or a little too funky to encourage the other judges to take a chance. This is how Cee Lo nabbed Nicholas David, who placed third in last fall's competition. In that instance, David was a strong contender and no one else bothered to turn his or her chair for the man. Even when Cee Lo's characters were a little too funky, they still shook things up in the competition, rather than maintaining the same momentum throughout.
It's a little too early to guess the judges won't let somebody funky through. In fact, it could be argued they already have. Last night featured a performance from a young man named Christian Porter whose mom thought he was deaf when he was little and who put together a wild rendition of "Sexy and I Know It" for the competition last night. It was weird and strange and probably everything Cee Lo would have gone for, but even without the man, three of the judges swiveled around. Only time will tell if Cee Lo's loss will change up the dynamics of The Voice, but I'm hoping the void in funkiness can be filled by the talents the new judges are able to bring to the table.
New episodes of NBC's The Voice air Mondays and Tuesdays at 8 p.m. ET.
Reality TV fan with a pinch of Disney fairy dust thrown in. Theme park junkie. If you've created a rom-com I've probably watched it.
Your Daily Blend of Entertainment News
Thank you for signing up to CinemaBlend. You will receive a verification email shortly.
There was a problem. Please refresh the page and try again.