Watch Chris Pratt Explain The Nude Stunt That Got Him Into Trouble With NBC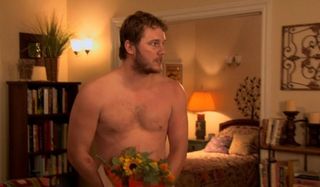 Chris Pratt got up to a lot of shenanigans during his days on NBC's Parks and Recreation. Some of the stunts he pulled ended up making the show and others were cut from the comedy before it hit the air. But only one of them got Chris Pratt into trouble with NBC. Speaking with the Graham Norton Show this week, Pratt recounted the hilarious tale of the nude scene that totally got him in hot water with the network that aired his show. You can check it out, below.
Chris Pratt's a good actor but a great comedic storyteller, and the 3-minute segment from the Graham Norton Show really serves to spotlight his prowess. In the video, the actor relates how the show was filming late one day way back during the second season of the series. During the scene, Pratt's character on Parks and Rec, Andy, was supposed to show up at boss lady Leslie Knope's house, naked—a feat which is not particularly realistic as actors on network TV shows wear undergarments during nude scenes. However, every time lead actress Amy Poehler and Pratt shot the scene, Pratt felt his co-star wasn't really reacting to him as if she had just seen his dick. So, he dropped his pantaloons and actually did the scene sans clothing.
It ended up looking like this, although Poehler and co. got an eyeful of way more than a flower pot:
Pretty funny, right? However, apparently, NBC caught wind of the stunt and were none too pleased about Pratt's exposure. Here's how they responded to the actor's antics.
As noted prior, if you know anything about Pratt's time on Parks and Recreation, you should know that he always attempted to change things up during takes. Writer Megan Amram once told a crazy story about the actor drop-kicking a fax machine on set. If only we had insight into all of the crazy stuff that happened on the set of the NBC comedy. After all, Pratt's not the only actor on that series who is capable at improv.
Parks and Recreation ended its seventh and final season just a few months ago with a rather poignant goodbye episode for a show mostly known for creating laughter. NBC just released the complete series DVD set last week, however, so if you are interested in catching Pratt's big nude scene in all its glory, you can check out the set here (opens in new tab). Or just catch a non-nude Chris Pratt in Jurassic World when it opens in theaters on June 15.
Reality TV fan with a pinch of Disney fairy dust thrown in. Theme park junkie. If you've created a rom-com I've probably watched it.
Your Daily Blend of Entertainment News
Thank you for signing up to CinemaBlend. You will receive a verification email shortly.
There was a problem. Please refresh the page and try again.