Watch Conan Audition Nick Offerman, Patton Oswalt And More To Play Wolverine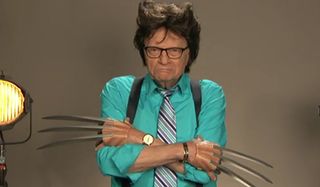 With Conan having taken the show on a nerdy pilgrimage to San Diego Comic-Con, certainly one would think that we'd be in store for a plethora of prevalent reveals about our favorite properties. However, in this particular instance, it seems that the celebration has yielded glimpses of hilarious attempts to fill the impending vacancy of the cinematic role of Wolverine. Check out the adamantium absurdity in the video below!
With the announcement a few months back that Hugh Jackman will soon conclude his successful cinematic run as Wolverine with the 2017 third Wolverine solo movie, Conan took the opportunity to show some stars indulging in the colossally quixotic idea of serving as his claw-wielding replacement. As the auditions (which, I guess I need to clarify are fake,) roll through, it's clear that this coveted comic book role needs to dig a lot deeper than this rather random ensemble of enthusiastic actors and comedians who could potentially make Logan/Wolverine's go-to noun of "bub" into an unfortunate punchline for the comic-book movie highlight reel hall of shame.
The "candidates" are all attempting to recite a key line from 2009's X-Men Origins: Wolverine, "I'm the best there is at what I do, and what I do best isn't very nice." It kicks off with a feeble attempt from Silicon Valley star, Thomas Middleditch, who just can't seem to deliver the threatening line without it coming across as an awkward attempt to sell Pied Piper video compression services to some eccentric billionaire's harebrained startup. Parks and Recreation star, Nick Offerman, despite having an innate measure of badassery, is, unfortunately unable to conjure the kind of gritty animal magnetism necessary. Similarly, notorious nerd, comedian and Agents of S.H.I.E.L.D. lanyard wielder, Patton Oswalt is unable to use the advantage of already having his foot in the comic book property door with his Broadway-inspired take. Likewise, Broad City star, Hannibal Buress seemed defeated before he even started.
We also get some odd attempts by Masters of Sex star, Michael Sheen, whose audition seems to show that he got a memo about a possible opening for the role of James Bond. Likewise, The Last Man on Earth star, Kristen Schaal, seems to have misdirected her enthusiasm for Paul Feig's upcoming all-female Ghostbusters reboot. Yet, things seemed to get especially intriguing when the video provides images that just may manage to burn in your retina for ages to come with the Wolverine auditions of Larry King and Betty White!
As you can see in the pic above, the venerable former cable talk show titan seems to want to bring more of an original, cross-armed style to the Wolverine character, using both his claws and prowess as an interviewer to lull his super-powered mutant antagonists into a state vulnerable complacency. Yet, as we can see below with Betty White, this former Golden Girls star uses the power of misguided presumptions to show belligerent baddies that judging an adamantium-aligned mutant by her geriatric cover is always a dangerous thing.
More Comic-Con insanity will certainly be witnessed when Conan airs weeknights 11/10c on TBS.
Your Daily Blend of Entertainment News
Thank you for signing up to CinemaBlend. You will receive a verification email shortly.
There was a problem. Please refresh the page and try again.