Watch Girls' First Two Episodes Online Now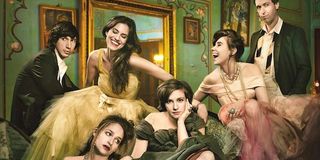 For those of you that were too busy snark-watching the Golden Globes to make time for any other television events, including the return of HBO's Girls, we've got you covered. In fact, the network made not one, but both of last night's third season premiere episodes available for viewing online — click here for episode one, "Females Only," and then here for episode two, "Truth or Dare." It's a Hannah Horvath miracle, you guys. Now go find your rattiest t-shirt and call in sick for the rest of the work day because you've got some television (and hopefully a pint of ice cream) with your name on it.
After the network picked up two awards last night — both for their film Behind the Candelabra — the third season installment of the dysfunctional lives of Brooklyn's finest returned. And, hoo boy, did the whole thing start off with a bang. Loose ends from last season — namely Adam's tryst with Shiri Appleby's Natalia — were tied up with a ferocious sort of pointedness that most certainly deserves to be fully appreciated in the video, but also definitely needs to be written out to experience the unadulterated hatred and anger that's going on in Natalia's little monologue. Because it was cutting, it was mean, and it was very good.
Upon confronting Adam after he disappeared off the face of the earth, Natalia was deservedly upset. So she and her friend (played by Amy Schumer) really let Hannah and him have it. "So you know what you have on your hands here, right? You know that you have an off-the-wagon Neanderthal sex addict sociopath who's gonna fuck you like he's never met you and like he's never loved his own mother. And then you're gonna cry, because that's what you do. Does he like to eat you out from behind? Does he bite your neck? Does he sound like a dying dog when he's f*cking you and he shoots his cum all over the place like it's goddamn confetti? F*cking in my hair. I had to get a goddamn blowout after I left your place. I hope you two just enjoy your urine-soaked life f*cking like the two feral animals that you both know you are. You're gonna end up with a baby that you don't know how to care for. You're gonna f*cking kill your kid. You're gonna give it spoiled formula. You're not gonna get any milk out of those tits. I just hope that you enjoy the f*cking life that you've chosen. And we? We're not paying the check, thanks."
See what we mean? Major yikes, you guys. At least there were tacos — and Shoshanna — to make everything better.
The episodes also featured Orange is the New Black star Danielle Brooks, who got particularly intimate with Jessa in rehab, Richard E. Grant as another patient on the scene, and Rita Wilson returned to harass her daughter Marnie into getting over Charlie once and for all (especially because he's not coming back on the show).
Should you need a refresher before watching the two episodes, we've got you covered there, too:
Girls airs Sundays at 10PM on HBO.
Your Daily Blend of Entertainment News
Your Daily Blend of Entertainment News
Thank you for signing up to CinemaBlend. You will receive a verification email shortly.
There was a problem. Please refresh the page and try again.