Watch John Oliver Talk Dick Pics And The NSA With Edward Snowden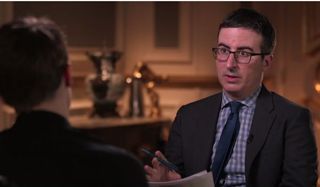 Leave it to John Oliver to expose an important aspect of American security in a way that everyone can understand. The host of HBO's late night news satire Last Week Tonight has become quite a voice in American news and politics, and last night John Oliver revealed an interview for the ages. The comedian sat down with none other than Edward Snowden to to talk NSA, privacy, and most importantly, dick pics. Take a look (Skip to the 15-minute mark for the juicer portion of the interview):
You may be questioning why a seemingly silly concept like dick pics is the highlight of this interview. But, it is the genius of John Oliver to provide a simple yet extremely effective concept that relates to a vast majority of people. He explains the sentiment to Snowden who was a bit offput by the concept at first, but goes along, and by the end of their discussion of "The Dick Pic Program", Snowden comes to the realization:
Edward Snowden, who Oliver terms as, "the most famous hero and/or traitor in recent American history" exposed a number of classified NSA documents to mainstream media back in 2013. While the actions he took were illegal, Snowden brought to light a number of intrusive elements of particular government surveillance programs that most Americans had been completely unaware about. In short, Snowden helped show that the government pretty much had access to anything you published on the internet. But, as Oliver exposed in his interview, Snowden's message may have not been as clear as intended, as many people on the streets of NYC did not even recognize the former system administrator's name.
So, by calling this information a dick pic, the people spoke, and as Oliver persuaded Snowden to explain all of the elements of Section 215 in the Patriot Act by way of a traveling dick pic, it became fairly clear. When it comes to dick pics, that's where the line is drawn. But in explaining this government program with that particular humor, Oliver is actually getting the message out to a much larger number of people, had the two just sat down and talked logistics. Oliver added his signature humor in the mix toning down the expected intensity of an interview with a man as infamous as Edward Snowden. He asked him some of the more hard hitting questions like "do you miss hot pockets?" But, the host's mission was to get people more aware of Section 215 and its implications as it is up for reauthorization in June, and in that sense, Oliver definitely achieved his goal.
You can see Oliver take on more difficult subjects on his weekly HBO show Last Week Tonight with John Oliver which airs Sundays at 11pm E.T.
Your Daily Blend of Entertainment News
Your Daily Blend of Entertainment News
Thank you for signing up to CinemaBlend. You will receive a verification email shortly.
There was a problem. Please refresh the page and try again.