Watch Ohio State's Band Crush These Popular TV Theme Songs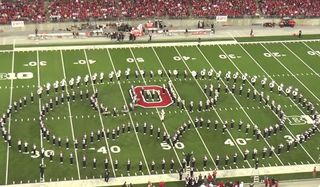 It's not very often that a college football halftime show would make its way onto TV Blend. However, the Ohio State Marching Band kicked off the season this weekend with an excellent rendition of some of the theme songs from all-time favorite TV shows, putting together some awesome patterns in motion that give the audience hints about what TV show they are alluding to. Check out the video, below.
The video was put together by the Ohio State Journalism Department, and follows the Ohio State Marching Band as they kick off with an oldie but a goodie, spelling out the word "Dragnet" as they play the popular "dun dun dun dun duuun" song that became a famous theme in the 1950s. The music's great, but I often marvel that these kids have the talent to move in such complex motions while playing music.
Next, the band reforms to present the image of Bart Simpson on a skateboard. While the shape is impressive, as the group plays the theme songs for Fox's famous animated hit The Simpsons, the band actually moves, simulating a skateboard flying down the length of the football field.
Next, the band shifts into a hand, signaling the start of The Addams Family theme song. The hand is the character, Thing, but what I love the most is that the crowd gets into that particular theme song, clapping at the appropriate moments.
As if these guys couldn't get any cooler, they next put together a batmobile for the original Batman TV series theme song.
A lot of the shows that the Ohio State Band chose were easily recognizable classics. After the Batman theme song, the themes for M.A.S.H., I Dream of Genie and an impressive surfing tribute to Hawaii Five-0 plays out on the field. The last section features the throwback theme for The Brady Bunch, as well as The Lone Ranger theme song, which younger audiences might know thanks to the more recent Gore Verbinski film. The band doesn't totally forget about the younger people in the audience, however. As a tribute to the younger folks in the crowd, the band also plays the theme song for NBC's The Office and throws together an impressive dragon to symbolize HBO's current hit Game of Thrones while that popular theme song plays.
I'm sure the football game is just a practice round for the competitive band, but if you have a love for classic TV and ten minutes to spare, you should give this one a watch. I promise you won't be disappointed.
Amazing Race & Top Chef superfan with a pinch of Disney fairy dust thrown in. If you've created a rom-com I've probably watched it.