Watch SNL's Empire Parody Featuring A White Dude In Khakis, Chris Hemsworth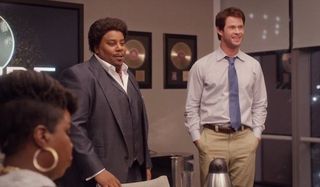 Fox's new hit music drama Empire just got a whole lot funnier. Mostly thanks to the comic wits of Kenan Thompson, who took on the role of Lucious, Sasheer Zamata (Cookie) and SNL host Chris Hemsworth, who took on the "white dude in khakis." Watch as Chip tries to integrate himself amongst the cast to help bring a little viewership to "white america."
Chris Hemsworth is getting funnier by the moment. Whether he's playing Water Wars with Jimmy Fallon, Musical Beers with Hugh Jackman or the role of his most notable character, Thor, (which he hilariously did in this SNL skit), the Aussie actor is repeatedly somehow managing to make people everywhere crack a smile. This time, however, it's as the new office manager Chip in the hilarious Empire parody above, who after immediately upon being introduced to the rest of the team, delivers the perfect ice-breaking question "does anyone actually do any work around here?"
His "hands in pockets/smile on face" delivery was spot-on, as was the reaction from Zamata's Cookie, telling him to "take a dip, Chip."
NBC's Saturday Night Live has a way with promoting content while also bringing the laughs. For a skit like this to be successful, producers want to assure they introduce the material to viewers in a way that not only explains what the show is about, but also makes their audience laugh. And that's exactly what they did with the Empire parody above. Thompson's impersonation of Terrence Howard's Lucious Lyon was amazing. Not only did he somehow embody the character physically, he also put the perfect comic spin on the character's vocal approach. And of course, he brought his trademark "deer in headlights" look... which, I must say, never seems to get old.
The remainder of the cast Jay Pharoah, Michael Che and Leslie Jones also only added to the laughs as Jamal, Hakeem and Porsha, respectively. Another hilarious moment worth mentioning was the bit of Chip asking Porsha about the expense report receipts. Jones' response, followed by Hemsworth's reaction, was unbeatable.
Empire, created by Lee Daniels and Danny Strong, follows a family as they experience all sorts of crazy drama in the world of a hip hop entertainment empire. It stars Terrence Howard, Taraji P. Henson, Tria Byers, Jussie Smollett, Bryshere Y. Gray, Grace Gealey, Malik Yoba and Kaitlin Doubleday and was just renewed for Season 2 a little over a month ago. It features solid performances all around, killer tunes by Timbaland and its rating are through the roof... so if you are looking for a new show, this is it.
Your Daily Blend of Entertainment News