Watch Tina Fey Strip Down To Her Spanx On Letterman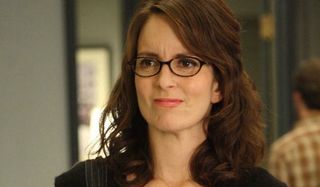 Leave it to Tina Fey to give David Letterman the best send-off gift ever. The comedian stripped down to her spanx to honor her wearing her last dress for the retiring talk show host. Take a look.
In the video of her recent trip to the Late Show with David Letterman, comedian Tina Fey gave David Letterman the best parting gift, since her appearance on the show will likely be her last. Fey actually stripped down to her skivvies, which were appropriately labeled "Last Dress Ever," right in front of Letterman and the entire viewing audience. After that stunt, the comedian just might get offers with more revealing roles. Tina Fey looks great, even in spanx.
It all started when the Late Show host brought up the fact that Fey looked lovely in her blue dress. Though Fey appreciated the audience applause, she quickly pivoted the conversation to bring up the point that it was likely the last time that she would wear a dress. She even mentioned that it was highly unlikely that Letterman's competition would ever get her to dress up like that. It was her final chance to put on a nice dress, and it was all out of respect for the retiring Late Show host. Even Letterman didn't see what was to come next. I don't think anyone did.
With a little help from Letterman, of course, Tina Fey took off her dress and revealed her message-worthy undergarments. Fey confessed that getting dressed up like that was a lot of work and now, I think we all believe her; by the look of relief on her face, and the fact that she shouted "never again," it's pretty clear how serious she was. And of course no strip down is complete without some slick moves, and Fey didn't disappoint. In between uncomfortably pulling at her spanx, she was sure to show off the words written across the front and back of her black leotard by bending over and squatting for the camera.
The audience may have enjoyed it, but I think Letterman was particularly honored that Fey would go to such lengths for his benefit. Who wouldn't? After all, it won't be long before Letterman retires from his post as host of the Late Show and Stephen Colbert officially steps in. The Late Show with Stephen Colbert is scheduled to premiere on September 8, 2015.
Your Daily Blend of Entertainment News