We Bet You Won't Recognize These 10 TV Shows That Premiered In 2005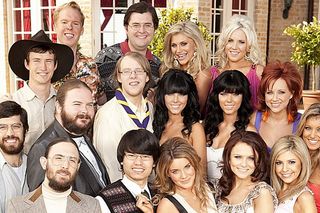 A great television show can run for a decade and another fifty years in syndication. Flash a thirty second clip of The Brady Bunch or Happy Days and a majority of us could probably identify damn near every character in the scene. There's just something about certain television shows that stick with you. But what about the less fortunate offerings? What about the TV shows that never find that longevity? Do our brains bother remembering anything about them, or does that information get shredded and later recycled? Let's find out.
I've put together a list of 10 television shows that premiered just 9 years ago. I will give you a picture, a cast list, an episode count, a premiere date, a network and a basic plot. You try desperately to root through your brain and come up with the show's name. Some of them were cancelled almost immediately. Some of them got a few seasons, but none are still around.
Are you ready? Then like all of these shows, we're off (the air)!
Round #1
Release Date: September 27, 2005
Episode Count/ Network: 18 on ABC
Stars: Geena Davis, Donald Sutherland, Kyle Secor, Harry Lennix
Plot: Following the death of the sitting President, his Vice President, played by Geena Davis, is sworn in. She's an Independent with a history in both Congress and academia, and she needs to balance the pressures of being a President and the first female President with being a mother and a wife.
People thought this show would rival The West Wing for awhile.
Round #2
Release Date: March 8, 2005
Episode Count/ Network: 13 on ABC
Stars: Ron Eldard, Marisol Nichols, Reno Wilson, Frank Grillo, Rena Sofer
Plot: What happens when a hard-nosed NYPD detective named John Dunbar gets jumped by some thugs with high powered assault riffles? He heroes up, of course, but in the process, he also loses his eyesight. After some legal maneuvering, he somehow is allowed to keep his job as a detective, despite the fact that he can't see. Cases and serious emotional problems ensue.
No idea why this hasn't been adapted into a B-movie with an entirely different tone yet.
Round #3
Release Date: January 4, 2005
Episode Count/ Network: 13 on NBC
Stars: Josh Cookie, Jennifer Finnigan, Darius McCrary, Tom Poston, Tammy Lynn Michaels
Plot: Two weirdo New Yorkers, one of whom is played by Hart Of Dixie's Joel, start dating each other but run into trouble immediately when their even weirder friends won't stop meddling in their lives. Ready for the kicker? The chick's roommate is played by a clown because obviously, he's played by a clown.
Did I mention the clown part?
Round #4
Release Date: June 1, 2005
Episode Count/ Network: 48 on The WB and The CW
Stars: Brian McFayden and Mike Richards
Plot: A bunch of dudes who are horrible, I repeat HORRIBLE, at talking to women are paired with a bunch of random hot chicks who are weirded out by weirdos. They're forced to compete together in a series of competitions to win money and ultimately, learn a whole lot about communicating with types of people they're not normally comfortable with.
This show was absolutely watchable.
Round #5
Release Date: September 19, 2005
Episode Count/ Network: 15 on NBC
Stars: Lake Bell, Leighton Meester, Jay R Ferguson, Carter Jenkins
Plot: There is no way I can possibly sum up this show in one paragraph. It's at least 4 or 5 times more complicated than Lost, but since you need a plot description, I'll do my best. All sorts of weird crap is happening in the world's oceans. Eventually, weird creatures start hatching, and the main scientists and investigators find out that some clones are running around.
On a personal level, I'm happy this show didn't make it because then Leighton Meester was able to accept a job on Gossip Girl.
Round #6
Release Date: January 4, 2005
Episode Count/ Network: 44 on CBS
Stars: Jennifer Finnigan, Kimberly Elise, Christian Kane, John Carroll Lynch
Plot: A prosecutor in Indianapolis zealously goes after murderers, rapists, thieves and various other undesirables. Beyond that, she balances a stressful work and home life, along with exciting Indiana living and some feelings of irritation related to being passed over for a promotion during her maternity leave.
I'm not sure if you can spoiler alert a marginally popular show that's been off the air for seven years, but this show might be best known for unexpectedly killing off a main character in its second season.
Round #7
Release Date: March 7, 2005
Episode Count/ Network: 51 on NBC, ESPN and Versus
Stars: Sylvester Stallone, Sugar Ray Leonard, Tony Danza
Plot: A group of boxers trying to making a name for themselves work out with some of the best trainers in the world and ultimately fight each other with the ultimate goal being to vanquish every foe and win a large prize. Some of the participants actually went on to a fair amount of success in the boxing world, even holding titles. Unfortunately, the ratings were never quite high enough to handle the program's large budget, and it was forced to network hop quite a bit.
Even many of the lesser known boxers were able to vault off this show and earn semi-decent paydays as the headliners of lower-end boxing cards.
Round #8
Release Date: March 7, 2005
Episode Count/ Network: 13 On Fox
Stars: Zachary Knighton, Charlie Finn, Rachelle Lefebre, Saige Thompson
Plot: Starring the one dude from Happy Endings and the fast food worker who fights Farva in Super Troopers, the show follows two losers who work at a hot dog stand in the food court. One of them has a girlfriend. There's some random family member problems, but basically, it's two dudes working at a hot dog stand who are going absolutely nowhere.
I have no idea who Fox thought the target audience was on this, but they didn't show up and it was cancelled after five episodes.
Round #9
Release Date: November 4, 2005
Episode Count/ Network: 40 On The N/ Teen Nick
Stars: Gabrielle Christian, Mandy Musgrave, Matt cohen, Rob Moran, Chris Hunter
Plot: Sort of like a DeGrassi clone, the show revolved around a group of teenagers who encountered pretty much every teenage problem you could image. Teen pregnancy, underage drinking, domestic violence and homosexuality were all discussed or directly commented on at one point or another, but despite good reviews and some decent viewership numbers, the show couldn't make it to a fourth season.
This really did deserve some more time to mature.
Round #10
Release Date: July 31, 2005
Episode Count/ Network: 13 On TNT
Stars: Gary Cole, Rashida Jones, Ryan Hurst, Josey Scott, Benjmain Benitez
Plot: Legendary producer Aaron Spelling was convinced TNT really needed a police drama back in 2005. So, he enlisted the help of brilliant comedian Gary Cole and came up with a pretty interesting, My Name Is Earl/ Blacklist type premise. Members of an elite task force from different law enforcement agencies would go after 100 of Los Angeles' most wanted fugitives.
You know what happened after this show got cancelled? Rashida Jones got hired for a guesting arc on The Office. So, thanks for pulling the plug, TNT.
This poll is no longer available.
Your Daily Blend of Entertainment News
Enthusiastic about Clue, case-of-the-week mysteries, a great wrestling promo and cookies at Disney World. Less enthusiastic about the pricing structure of cable, loud noises and Tuesdays.