What Does Disney Buying Lucasfilm Mean For Television?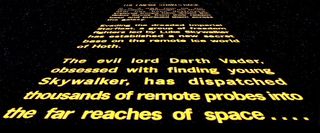 Unless you've been hiding inside a tauntaun on Hoth for the last 24 hours, you've probably heard that Disney acquired Lucasfilm and is planning to continue the Star Wars saga on the big-screen. Episodes VII, VIII and IX going into pre-production may be the blockbuster portion of the announcement but the film implications are only one small facet of the new partnership. One question obviously on our minds is... how will the deal affect current, upcoming and potential television series set in the galaxy far far away?
First and foremost, the potential dark side news. Fans of Star Wars: The Clone Wars might have something to worry about since The Cartoon Network has corporate relations with Warner Bros and, more importantly, DC Comics--meaning the Marvel-owning Disney is not likely to let the program continue much longer, at least not on the same channel. Although the sixth season has not officially been announced, IGN reports that "work is underway" so perhaps there are more details that include CN holding onto the rights to make more. The series could even continue on Disney XD. Either would surely be a silver lining for those invested in the animated saga.
The Clone Wars is not the only Star Wars series in production, with Seth Green and Matthew Senreich's SW: Detours also set a long time ago in the aforementioned far away galaxy. An animated sitcom of sorts, the new show is set to make its debut in 2013 but had yet to find (or name) an official home. I assumed that The Cartoon Network/Adult Swim would be the place to catch the upcoming Star Wars comedy but now that's probably not going to happen. I'm sure Disney XD will be able to find a spot on the schedule.
And speaking of room on the XD schedule, the network certainly made enough of it for Marvel-based series after that acquisition, so it's not a stretch to assume that there are also Lucasfilm related projects planned for the family channel. According to the same post by IGN, Disney Chairman and Chief Executive Officer Bob Iger himself made the comparison with Marvel saying how they "really like Star Wars' potential on TV as well and we think Disney XD will be a strong home for that."
As something like Detours suggests, there are endless possibilities for television series, especially animated ones, to be set in the same universe and let's not forget how well Indiana Jones (another property owned by Lucasfilm, even though the rights currently remain at Paramount) could also do on the children's network. How about the return of Adventures of Young Indiana Jones? Finally there's the obvious potential to expand both properties into prime-time series on ABC. Or any Disney owned channel for that matter.
That's right, the long rumored live-action Star Wars television series no longer seems like a nerd's dream but instead simply a matter of time. I'd say Disney follows the same path with the science fiction franchise (as well as Indy if/when possible) as they did with Marvel - starting with animated superhero series for XD before developing the live-action SHIELD. And why not? I'd watch an Indiana Jones series starring Josh Holloway on ABC, wouldn't you? Just a suggestion. Of course, there's always the chance Disney goes too far and we get something like Star Wars Investigations: Tatooine. What do you think?
Your Daily Blend of Entertainment News
Thank you for signing up to CinemaBlend. You will receive a verification email shortly.
There was a problem. Please refresh the page and try again.