The Wild New Way Thursday Night Football Will Stream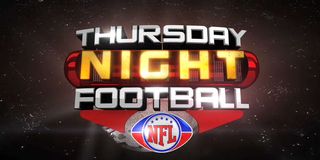 The NFL has been looking into ways to update and widen the scope of their Thursday Night Football programming for a few months now. Well, they finally seem to have hit upon the answer that works for them, as the company has partnered with Twitter to deliver those games to even more fans.
The NFL (opens in new tab) confirmed to CinemaBlend today that they've partnered with Twitter to deliver a live digital stream of their Thursday Night Football games worldwide and completely free for the over 800 million users of the social media giant. The Twitter games that will stream will be the same 10 games which are scheduled to be simulcast on NBC, CBS and the NFL Network. This will complete the league's desire to fulfill their "tri-cast" mode of getting their Thursday night games to fans, with broadcast media, cable and Twitter showing the competitions.
Live streaming video of the NFL games is just a part of the partnership, which began in 2013 with the Twitter Amplify package. The deal also includes, pre-game Periscope videos from players and teams and highlights from Thursday Night Football. Their hope is that this strategy will give fans an immersive game day experience before, during and after the games.
Well, this is just a crazy way to handle Thursday Night Football streaming. There are lots of digital platforms that say "live streaming" better than Twitter, but, the real question is whether or not this idea is just wild enough to really work. The Nielson television ratings system has determined that regular season NFL games in 2015 represented 78 percent of all homes with televisions in the United States, and were listed in the top 25 of most-watched television programs among all shows in the same year.
The 16 games on last year's regular season Thursday Night Football schedule averaged 13 million viewers, which was up 61 percent from 2013, when the games were only shown on the NFL Network. Last year saw some of those games simulcast on CBS. Add Twitter's 800 million users as potential viewers to the live stream online, and the NFL could up their viewership numbers by quite a lot for the 2016 regular season.
NFL Commissioner Roger Goodell notes that "Twitter is where live events unfold," and he's certainly right in one aspect. There is hardly a live TV event, whether it be an awards show, the first airing of an episode of scripted television or a sporting event, when millions of people aren't using Twitter to track the occasion as it happens. People discuss interesting tidbits as they happen and post clips of the events while these things are still going on. I'd be surprised if millions of people aren't on Twitter during every NFL game to dissect plays and referee calls. So, it does feel like a natural extension of the way many folks likely watch the games anyway.
So, we only have a few months to see if this wacky plan will pan out for the NFL. What do you think? Will people actually use Twitter to watch NFL games that they can see on regular broadcast networks or cable? Let us know your thoughts in the comments!
Bachelor Nation, Gilmore Girl; will Vulcan nerve pinch pretty much anyone if prompted with cheese...Yes, even Jamie Fraser.
Your Daily Blend of Entertainment News
Thank you for signing up to CinemaBlend. You will receive a verification email shortly.
There was a problem. Please refresh the page and try again.