Wilfred Watch: Season 3, Episodes 5 - Shame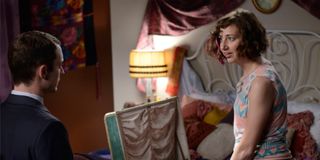 "I have little shame, no dignity - all in the name of a better cause." A.J. Jacobs
After taking a week off, Wilfred came back full of "Shame" and with a very comfortable episode for the first solo installment of the third season. Before the brief vacation (the break was July 4), the FX comedy started the new year by airing back-to-back episodes back-to back-weeks ("Uncertainty" and "Comfort" before "Suspicion" and "Sincerity") and immediately showed that Wilfred hadn't missed a step. Even with a change in showrunners, the show was still the same bizarre, beautiful and very funny series. And just like seasons past, Wilfred continues to employ a nice balance of episodic and serialized storytelling, opening the third with a statement about the ongoing mysteries before settling into a more self-contained weekly experience. "Shame" offers some over-arching lessons (you know, the titular moral) that certainly inform Ryan's development (and his relationship with Wilfred) but overall it's more concerned with telling a solid, albeit somewhat safe, one-off story.
"Onion rings grease. Cheetos powder. Barbecue sause. Well hello, napkin pants."
One serialized aspect of the show that has seeped into almost every episode of the third season so far, including last night, was the renewed focus on Jenna as Ryan's will-they, won't-they love interest. Even though the roommate narrative was the main thread of "Shame," a conflict that seems to have risen and been resolved within the installment (I think, more on that in a moment), the impetus for Ryan finding Anne was to keep up appearances in front of Jenna. The writers have also made a point to stress Jenna's growing interest in her 'dog sitter,' so I'd expect some fireworks between the two (and Drew) before the third season is out. Anyway, back to "Shame" and Jenna's embarrassing gesture at the beginning that put things in motion. Trying to be nice after noticing a past due notice on Ryan's mortgage, the sweet girl next door gives him some money for all the hard work he's put in with their dog. Ryan's goal for the week immediately takes shape, he must wipe away the shame of the notice and show Jenna that he's got his life together (even though he does not). Of course, since impressing 'his' girl becomes priority number one, Wilfred immediately starts to sabotage this goal with his own plans. What would an episode of Wlfred be without the best friends at odds?
"Me fat? Is that why that dog in the mirror keeps saying such hurtful things?!"
As Ryan is lying to Jenna about the missed mortgage payment, he spots the dog making his way upstairs with his paws full of garbage. I mean, what is that thing? It turns out that Wilfred has turned the spare room into his sanctuary of stinking detritus, an impressive feat considering Ryan's always hanging out with that cleaning lady. After a quick tour of the bachelor pad (the bar with the toilet on tap was a nice touch), the owner realizes that the empty space might just be the answer to his financial problems and sets out to find himself a new roommate. Sorry, Wilfred. Looks like you'll have to give up the pigeon dicks and that thing. The first showing goes great and Mr. Clean (Chris) decides to take the room, not good news for Wilfred (his offers to suck things not even close to the week's low) or Kristen Schaal's Anne who shows up a few minutes later, looking like a sweaty mess. Or heaven, if you're a dog. I don't think Schaal is a recurring character (hence stressing the episodic nature of "Shame"), even though the comedian would be a welcome addition to any series. It's a great guest turn, so here's hoping she stinks up a few more installments. But I'm getting ahead of myself, back to the too-late roommate interview between Ryan and rock-salt leg, bag of two day old egg roll Anne.
"You ripped the horn off the unicorn Ryan because you wanted to make it a normal horse but it'll never be a normal horse. Because now there's that circular scab in its forehead."
Obviously, Ryan does not offer Anne the room but that doesn't stop Wilfred from giving it to her or taking advantage of all her food runoff. And since her job is literally eating in bed, there's a lot of crumbs to go around causing the dog to get quite large. So large, he can't even pleasure Bear without a tongue on a stick. Yikes. And since Wilfred's big conflict of the week is weight watching (and arguing with the dog in the mirror), the more serious side of "Shame" is saved for Ryan. He has to learn a lesson after all and it doesn't take long for things to build to an unpleasant head for him. Or does it take long? This is an odd one in that respect, I don't think the sitcom has ever spanned this much time in one sitting. However much happens to pass. Anyway, spurned by Anne's sloppiness (and her theft of Jenna's paper, another embarrassment he could have done without), Ryan looses his shit on his new roommate and badgers her dad-style into cleaning up her act. She does but it doesn't maker her happy. And seeing her slothy dreams crushed doesn't make Ryan happy either. It does make him realize that maybe his pot smoking, pet talking life is pretty great after all. Nothing to be ashamed of, that's for sure.
"Holy shit, that is me. I'm fat, dude."
Wilfred returns with Episode 6, "Delusion," on Thursday, July 18 at 10 p.m. ET on FX. Unfortunately, I'll be at Comic-Con and won't be able to recap it, however, there will be coverage of the Wilfred panel in its place. And here's Elijah Wood in the Wilfred costume because, well, why not?
Your Daily Blend of Entertainment News
Thank you for signing up to CinemaBlend. You will receive a verification email shortly.
There was a problem. Please refresh the page and try again.