Women's Murder Club Is Back In Business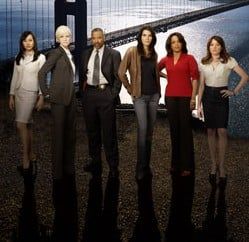 Women's Murder Club, the low-rated but beloved by…well, me, crime drama will see the light of day once again. The future of the ABC series has remained unclear since the end of the writers strike. Immediately upon returning to work, executive producer R. Scott Gemmill, along with co-creators and co-producers Elizabeth Craft and Sarah Fain were welcomed back with pink slips.
Whether or not new episodes would be produced hinged upon finding a new showrunner. Luckily, the show managed to snag Robert Nathan, whose work as a producer on both Law & Order and Law & Order: SVU, will hopefully bring a grittier feel to the fledgling series.
With Nathan on board, Women's Murder Club is supposed to come back this season with three new episodes, beginning as early as April. However, the fate of the series beyond these three episodes has not been decided. While Murder Club has been granted a stay of execution, only high ratings will be able to guarantee full clemency.
Your Daily Blend of Entertainment News
Your Daily Blend of Entertainment News
Thank you for signing up to CinemaBlend. You will receive a verification email shortly.
There was a problem. Please refresh the page and try again.