Adidas Now Dealing With A Steep Downgrade Thanks To Losing Over A Billion After Dropping Kanye West Deal
Adidas is reportedly hurting after terminating Ye's deal.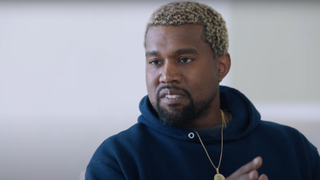 (Image credit: Kanye West YouTube)
Kanye West stirred up a considerable amount of controversy in 2022, mostly due to statements he made that were deemed anti-Semitic. In the aftermath, the rapper and business mogul lost a number of high-profile business ventures, including his long-standing relationship with Adidas.
Though West has certainly felt the effects of the partnership's dissolution, the same is true for the sportswear conglomerate. The company has reportedly lost over a billion dollars since dropping the star. Now, as a result of its financial woes, the corporation has received a steep downgrade when it comes to the stock market index.
Adidas AG was handed lower long and short-term debt ratings by S&P Global Ratings this week. According to Market Watch, the ratings went from A+/A-1 to A-/A-2, with the stock classification entity attributing this change to the weakened credit metrics that the company has experienced as of late. These negative fluctuations began to occur after Ye was dropped by the company, per S&P. It's a harsh blow to the German manufacturer and isn't the only problem it has to take into consideration at this timet.
As explained by the news outlet, the company's new rating indicates a negative outlook and, with that, it's possible that S&P could lower its score at some point in the near future. In addition, the brand has not been faring well in the Chinese market, and that's not good when you consider that it made up 15.5% of its overall sales in nine months since September 30. Western countries also seem to be showing less interest in the corporation's products.
More Kanye West
Kanye West Set As Subject For In-Depth Documentary With Journalist Who Covered Britney Spears' Conservatorship
Kanye West and Adidas' Yeezy deal was forged in 2015, and business relationship proved to be fruitful for both sides. Per Market Watch, the fashion collaboration made up 5% of the brand's total sales in 2021 alone, with that figure rising to 7% in 2022. Things took a turn in October 2022 after West, during an appearance on the Drink Champs podcast, mused that he could "say anti-Semitic things, and Adidas can't drop me. Now what?" The line was ultimately dropped, with the company saying that the star's comments and actions were "unacceptable, hateful and dangerous, and they violate the company's values of diversity and inclusion, mutual respect and fairness."
After the high-profile decision was made, former Yeezy staffers made claims about their time working with Ye. Some high-ranking employees alleged that the Grammy winner created a "toxic and chaotic environment." An unnamed source also claimed that he "exploded at women in the room with offensive remarks, and would resort to sexually disturbing references when providing design feedback." Following the brand's termination, the 45-year-old lost his billionaire status and also tried to form a new deal with Skechers – only to be escorted out of the company's offices.
Kanye West's dramatic departure and its aftershocks aren't the only hurdles that Adidas is dealing with. The footwear giant also has a deal with Beyoncé, which spawned the Ivy Park imprint. That brand's revenue has apparently dropped by 50% in the past year, apparently earning just $40 million in 2022. That was far below the company's initial projection, which swirled around the $250 million mark. The singer herself is still benefiting, though, as she's reportedly making $20 million per year, thanks to the agreement.
It goes without saying that both Adidas and Ye find themselves in new financial territory following their split. The former, in particular, may want to act fast if it wants to rebound, and one can only wonder how it'll proceed.
Your Daily Blend of Entertainment News
Covering superheroes, sci-fi, comedy, and almost anything else in film and TV. I eat more pizza than the Teenage Mutant Ninja Turtles.