All The Bachelorette Season 19 Eliminations For Gabby Windey And Rachel Recchia, Updated Weekly
By Heidi Venable last updated
Who did Gabby Windey and Rachel Recchia send home?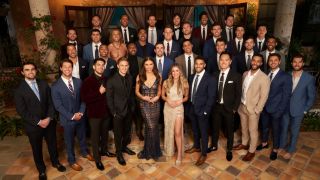 (Image credit: ABC)
Warning! The following contains spoilers for The Bachelorette Season 19 eliminations. Read at your own risk!
The Bachelorette has broken the franchise's time-honored mold for Season 19, taking viewers on two women's journeys to find a husband. Following a particularly hellish season of The Bachelor, Rachel Recchia and Gabby Windey are in full control of their dual season, which will hopefully end in not one, but two men getting down on one knee to propose to the bachelorettes. But the ladies have to make quite a few eliminations before they can reach their final two.
With two leads for Season 19 comes a record number of contestants, as 32 men entered Bachelor Mansion on Night 1. In this list we'll track how all the drama goes down, giving a week-by-week breakdown of all the men who have been cut from The Bachelorette Season 19. Whether they fail to receive a rose at the rose ceremony, find themselves on the wrong side of a 2-on-1 date, or get sent home for any other reason, you'll be able to find all that information here with weekly updates updated weekly. Let's take a look at who's been cast off so far as Gabby Windey and Rachel Recchia search for love!
Night 1 Elimination: Joey and Justin Young
The Bachelor has featured twin contestants in the past, but this was the first time double trouble came to The Bachelorette. It was also the first time the franchise's decision to double things up might have made sense, with there being two bachelorettes and all. But any hopes for double dates between Joey and Justin Young and Gabby Windey and Rachel Recchia were dashed immediately. Both women found it hard to get to know the 24-year-olds in a 2-on-2 setting, and we unfortunately didn't get a chance to see what they would bring to a relationship as individuals. This resulted in their being sent home, despite the cancellation of the first rose ceremony.
Night 1 Elimination: Roby Sobieski
When the casting department brings a magician on to The Bachelorette, fans know they're in for some illusions, for better or worse. After showing off a couple of different tricks, Roby Sobieski clarified he didn't want to take attention away from the women, and he started asking them questions about themselves. He seemed sweet but admitted to being really nervous, which might have contributed to him not being able to form a connection with either Gabby Windey or Rachel Recchia, dooming him to the dreaded Night 1 elimination.
The season premiere of The Bachelorette usually sees a much larger group of guys getting sent home. By comparison, the previous two bachelorettes, Katie Thurston and Michelle Young, each sent home seven men on Night 1, and from a slightly smaller pool of contestants. Gabby Windey and Rachel Recchia, in an unprecedented move, chose to cancel their rose ceremony on the first night, after they were unable to spend ample time with many of the men. However, they both did get to speak to these three guys, and after not feeling a spark with any of them, the leads quietly walked them out.
Week 2 Elimination: Jordan Vandergriff
With 29 men remaining in the house, Rachel Recchia had no time to waste on people she wasn't feeling a connection with. After bonding with drag racer Jordan Vandergriff on the first night, Recchia chose him as her first one-on-one date. All seemed to be going well on their zero-gravity ride, but during dinner, the bachelorette said she felt something was missing. After a tearful conversation with producers, she told Vandergriff she could not give him the date rose, and he was sent home.
Week 2 Elimination: Chris Austin
Meet Season 19's first villain, though his reign was short-lived. Chris Austin brought up Fantasy Suites in conversation with his housemates, apparently before he'd even spoken to either of the women one-on-one. He expressed that in overnight dates, it was a deal-breaker for him if they chose to be intimate with other men. (Wow, Clayton Echard flashbacks much?) Gabby Windey and Rachel Recchia were informed of this, and after a conversation between Austin and the leads, they asked him to leave. He actually had to be asked to leave twice, because after they walked him out the first time, he circled back to try to confront the men who had snitched.
Week 2 Rose Ceremony: The Bloodbath
After so few eliminations in the season premiere, the first official rose ceremony was actually kind of brutal, as we said goodbye to six contestants. Among them were John Anderson, who was the guy who mixed up the bachelorettes' names during his limo exit on Week 1, and Ryan Mula, who was super bummed to not be able to pursue Rachel Recchia. Here are the six men who were eliminated after the July 18 rose ceremony:
Brandan Hall
Colin Farril
John Anderson
Justin Budfuloski
Matthew Labagh
Ryan Mula
Week 3 Rose Ceremony: Three Reject Rachel Recchia's Roses
After a tough week that saw Gabby Windey in particular struggling with some contestants' indecision over which of the two leads to pursue, she and Rachel Recchia decided to split the group between them. For the men, accepting a rose from one of the women at the rose ceremony meant they could no longer pursue the other bachelorette. Three men declined Recchia's roses, and when Windey did not save them, they were eliminated. Those players were:
Alec Garza: We didn't see much of Garza in the first few episodes, but his limo exit will go down in history — he was the contestant who brought a children's choir along to sing "Clayton Sucks."
Termayne Harper: He expressed confusion during the episode about which woman to pursue, and he apparently didn't make enough of an impression on Gabby Windey for her to save him after he turned down Rachel Recchia.
James "Meatball" Clarke: If fans were surprised that Meatball decided at the last minute to go hard for Team Gabby, they were likely more surprised when, after being eliminated, he returned, telling Rachel Recchia he'd changed his mind and wanted to accept her rose. To be continued, but for now, he is gone. Update: Meatball returned in Week 4.
Week 3 Elimination: Jacob Rapini
Jake Rapini did not even have the luxury of rejecting a rose. He upset Gabby Windey during the group date by telling her that even if she were the only bachelorette on Season 19, he would still not want to move forward with her. That sentiment was possibly what did him in with Rachel Recchia as well, and he ended up being the only guy who did not get offered a rose from either woman this week.
Week 4 Elimination: Hayden Markowitz
Rachel Recchia decided to give Hayden Markowitz a second chance, after he offended Gabby Windey in the last episode by calling her "rough around the edges." But after James "Meatball" Clarke informed Recchia that Markowitz had called the bachelorettes "bitches" in conversation with other guys in the house, and he'd apparently made comparisons between his ex-girlfriend and Recchia in regards to their chests, the leading lady had had enough. Recchia walked Markowitz off the cruise ship, and he said he was happy to be going home to his sick dog.
Week 4 Rose Ceremony: Three More Sent Home
After splitting the guys between themselves last week, each bachelorette had to send two of their suitors home in Episode 4, leaving them with seven contestants apiece. Having already eliminated Hayden Markowitz, Rachel Recchia's only rose ceremony sendoff was Jordan Helman.
Gabby Windey, meanwhile, eliminated the college football coach from Texas, Kirk Bryant, and Miami life coach Quincey Williams.
Connections are starting to develop on this Season 19 journey, so check back to this link next week to see which eligible bachelors will remain single for a little bit longer. The Bachelorette airs at 8 p.m. ET Mondays on ABC, with episodes available to stream afterward on ABC.com. Be sure to check out our 2022 TV Schedule to see what new and returning shows are premiering soon.
Mom of two and hard-core '90s kid. Unprovoked, will quote Friends in any situation. Can usually be found rewatching The West Wing instead of doing anything productive.
Your Daily Blend of Entertainment News
Thank you for signing up to CinemaBlend. You will receive a verification email shortly.
There was a problem. Please refresh the page and try again.