90 Day Fiancé: 8 Couples Who Split After Getting Married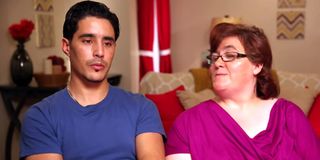 90 Day Fiancé couples have become a reality television obsession for some, mostly because the drama is always flowing. That's in part because the couples go through all sorts of drama during the K1 visa process, and cultural differences can lead to tension, and even after marriage, things can fall apart. Hey, marriage is a difficult thing, and when adding all the other factors these couples dealt with, it's not surprising when things go south.
While some couples who have been on 90 Day Fiancé went the distance after marriage, others haven't been so lucky. Whether it's infidelity, irreconcilable differences, or the fact that someone is just a "user" (shoutout to Danielle Jbali), many couples have ended their time in the franchise apart from their significant other. Here are a handful of notable examples, along with some updates on how things are going for them in the present.
Jihoon Lee and Deavan Clegg
Korean Jihoon Lee and American Deavan Clegg met online, and after their first date, she became pregnant with their son Taeyang. Deavan went back and forth from America to Korea, hoping that Jihoon would "be a man" and get enough stability financially so that they could have a home. The two were finally married in Season 2 of 90 Day Fiancé: The Other Way, but things went south soon after. Deavan returned home to America during COVID, and while things initially seemed fine, Jihoon eventually announced Deavan left him while back home in America. Deavan found a new boyfriend and is currently in a custody battle with Jihoon for custody of Taeyang.
Colt Johnson And Larissa Dos Santos Limas
In hindsight, it should've been obvious that Colt Johnson and Larissa Dos Santos Limas would have trouble after he proposed to her a few days after they first met. Colt then brought the Brazilian to America on a K1 visa, and began to pay for cosmetic surgeries she requested. Tensions between Larissa and Colt's mother, Debbie, led to a lot of explosive fights, one of which actually resulted in cops being called to the house. The two finally called it quits and moved on to other people, and 90 Day Fiancé viewers can confirm it seems to be for the best.
Jorge Nava and Anfisa Arkhipchenko
Jorge Nava and Anfisa Arkhipchenko were the rare instance of a couple on 90 Day Fiancé who were incredibly upfront with each other. Jorge wanted Anfisa for her looks, and Anfisa made it clear she was interested in his money. Unfortunately, Jorge's charge for marijuana trafficking prevented him from doing a lot of things to keep her happy, which led to some pretty tremendous blowups between the two of them. The duo eventually divorced while he served his prison sentence, but Jorge seems to be doing better, having lost a lot of weight and having a child with his new girlfriend.
Danielle Jbali and Mohamad Jbali
Danielle and Tunisian-born Mohamad Jbali's divorce should come as no surprise to viewers, the whole thing was shown on Season 2 of 90 Day Fiancé: Happily Ever After?. Their massive age gap was too much for the couple to find common ground, not to mention intimacy. Danielle attempted to get the marriage annulled so that Mohamad would be deported, but ultimately settled for divorce at the advice of her attorney and the judge. One positive bit of news was that the two recently reconciled on 90 Day: The Single Life, and despite all the bitterness of the past, were able to forgive each other and move forward as friends.
Jason Hitch and Cassia Tavares
90 Day Fiancé Season 2 couple Jason Hitch and Brazilian Cassia Tavares had some issues that, to be frank, are typical of the average couple of the show. Jason's family doubted she wasn't using Jason to make a life for herself in America, and Cassia was led to believe Jason's life was something different than the frugal one he led. Not long after the show ended Jason was arrested under accusations of domestic violence, though Cassia withdrew her statement eventually. The two filed for divorce twice before actually going through with it, and Cassia eventually remarried an Italian man named Giuseppe.
Molly Hopkins and Luis Mendez
American Molly Hopkins really felt she found love when she met Luis Mendez in the Dominican Republic, but the 90 Day Fiancé Season 5 couple didn't last too long. After the two were legally wed, Molly became upset by the fact Luis wasn't interested in being a father to her teen daughters, as well as an inappropriate question he had about one of her daughter's sex life. Luis re-married after the two were divorced, and Molly recently got back out in the dating scene in 90 Day: The Single Life.
Jonathan Rivera and Fernanda Flores
Jonathan Rivera and the Mexican-born Fernanda Flores made it to their wedding on 90 Day Fiancé Season 6, but by the time the tell-all was filmed, had already split. The two's divorce was finalized in early 2020, and fans noticed that Jonathan wasted no time in getting engaged to another woman once the marriage was officially over. Fernanda was on 90 Day: The Single Life, but likely won't be in the future, after the recent revelation that she and her friend Noel Mikaelian are together.
Ashley Martson and Jay Smith
Ashley and Jay are one of the more controversial subjects of Season 6 of 90 Day Fiancé, just because the two have claimed things featured in their season were faked. The two also bounced back and forth between being together and separate during their tumultuous marriage. They finalized their divorce in March, and ultimately, both seem excited about their futures going forward.
Catch 90 Day Fiancé: Happily Ever After? on TLC Sundays at 8:00 p.m. ET. The good news is that most of the couples on that season seem to be doing alright in the present, with the very big exception of Mike Youngquist and Natalie Mordovtseva, who could soon join this list if they haven't already. For the latest on that, check out how Natalie may have already spilled the beans on the status of her relationship while in a competition to make the cover of Maxim magazine.
Your Daily Blend of Entertainment News
Mick likes good television, but also reality television. He grew up on Star Wars, DC, Marvel, and pro wrestling and loves to discuss and dissect most of it. He's been writing online for over a decade and never dreamed he'd be in the position he is today.