Barry's Bill Hader Revealed Seinfeld Co-Creator Larry David's Hilariously Hot Take On HBO Hit Not Ending With Season 3
Good thing he's not in charge.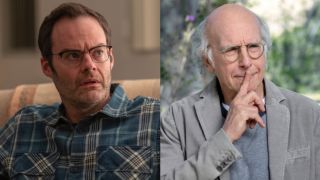 (Image credit: HBO)
Minor spoilers for the fourth season of Barry lie ahead, so read at your own risk.
The fourth season of the Bill Hader-led Barry is an absolute hit for HBO. The dark comedy is full of twists and turns, and many would probably agree the latest season is the best (and possibly most "radical") yet. However, if it was apparently up to Seinfeld co-creator Larry David, the acclaimed show wouldn't have gotten a fourth season at all. Hader recently revealed that David had expected the show to end after the third, which is a hilarious hot take I just can't seem to get behind.
The Emmy winner recently sat down with pal Conan O'Brien on his podcast Conan O'Brien Needs A Friend, where he shared how he approached writing the last two seasons of Barry. He also explained why he decided to end Season 3 the way he did. It was during this conversation that Bill Hader revealed that fellow HBO showrunner Larry David assumed that the show was over after the third season. Hader explained:
This is quite the take, especially considering that the comedian's own shows have had long lifespans. His signature series, Curb Your Enthusiasm, has been running for over 20 years, while Seinfeld aired for nine. Conan O'Brien's co-host theorized that the writer might be comparing Barry to the latter of those aforementioned shows, which ended with its characters in jail. For context, Season 3 of Barry ends with its titular protagonist getting caught by the police, and Season 4 begins with the titular character in jail. While I understand where Larry David is coming from, I can't imagine a world without a fourth season of this show, especially considering shocking decisions central characters have made this year.
While the season may have begun with the hitman in prison, the show has taken some massive turns. A major time jump mid-season shocked audiences and completely changed the direction of the show. The new setting allowed Bill Hader, as a director, to experiment visually and thematically and pepper in surrealism and horror elements that have sent Twitter into a tailspin. The show is ending with its fourth season, decidedly not having a Curb Your Enthusiasm-length run. Nevertheless, this latest batch of episodes proves that the series still has a lot more story to tell.
Larry David and Bill Hader are clearly good enough friends where David can give the SNL alum writing advice. Hader was even a guest star during the 11th season of Curb Your Enthusiasm, where he played three characters. The episode is hilarious and even earned Hader an Emmy nom for his performance. While Barry has certainly become more dramatic as it's progressed, Hader's comedic chops are still top tier. The dark comedy has featured welcomed many big names during its run, including Hollywood figures like Guillermo Del Toro Fred Armisen and Joe Mantegna. And who knows, maybe we'll get a surprise cameo from David in the finale.
Barry airs its series finale this Sunday on HBO at 10 p.m. ET. Fans can catch up on the show ahead of its conclusion by streaming it with a Max subscription. For more information on other series streaming this year, make sure to check out our 2023 TV schedule.
Your Daily Blend of Entertainment News
Writer, podcaster, CinemaBlend contributor, film and television nerd, enthusiastic person. Hoping to bring undying passion for storytelling to CinemaBlend.