Rashida Jones Reunited With Amy Poehler And Other Parks And Rec Alums For Galentine's Day, And Her Photo Is Adorable
The Galentine's Day tradition continues!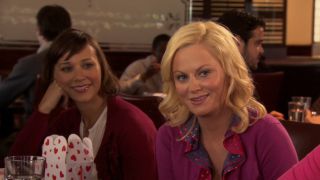 (Image credit: NBC)
The Galentine's Day tradition continues as Rashida Jones and her Parks and Rec pals got together once again to celebrate the Valentine's Day adjacent, friendship-forward holiday. The actress behind Ann Perkins posted a lovely little reunion photo of her, Amy Poehler, Aubrey Plaza and Kathryn Hahn as they celebrated Galentine's Day, and it's the cutest thing ever.
Ever since Season 2 Episode 16 of Parks and Rec aired, February 13 has been known to many as the beloved holiday Galentine's Day. It's a day to celebrate your gal pals and friendship, and the ladies of the classic NBC comedy continue to reunite on the day before Valentine's Day, even all these year's after the show ended, as Rashida Jones posted their reunion on her Instagram.
I absolutely love that these gals get together to celebrate Galentine's Day year after year. Following the show ending in 2015, the cast has remained very close. Amy Poehler and Aubrey Plaza performed together on SNL as Leslie and April, respectively, on Weekend Update. The whole cast got together virtually for an episode during the pandemic, and there's a group chat that remains active all these years later that includes the whole Parks and Rec cast.
However, despite all these moments being adorable, the annual Galentine's Day dinner with these four actresses is my favorite thing. Seeing Ann Perkins, Leslie Knope, April Ludgate and Jen Barkley get together to celebrate friendship is so wholesome, and it reminds us every year just how stellar these ladies were together on Parks and Rec.
This is not the first time Jones, Poehler, Hahn and Plaza have gotten together to celebrate the Parks and Rec-inspired holiday. Back in 2018, the Ann Perkins actress posted a photo of the four of them together, which is very similar to the one from this year. Clearly, this holiday is something they all love, and getting all the gals together has become their Galentine's Day tradition.
Many inside jokes from Parks and Rec as well as stories from some of the show's best episodes have made their way into the zeitgeist. For example, "Treat yo self," can be heard all over the place, and Galentine's Day has become a well-known holiday, not just a bit from Season 2, showing the impact this show has had on its viewers.
What makes this reunion even sweeter is seeing all the big projects these actresses have gone onto. Kathryn Hahn is making a splash in the industry between her character Agatha Harkness in the MCU and her role in Glass Onion. Aubrey Plaza turned heads with her performances in The White Lotus and Emily the Criminal. Meanwhile, Amy Poehler is getting ready to voice Joy again in Inside Out 2, and Rashida Jones has a few projects in development as well.
So, even though it's currently Valentine's Day, it's never too late to celebrate Galentine's Day like these lovely ladies did, and take a moment to appreciate all the wonderful gal pals in your life. And I think the best way to celebrate is by watching Parks and Rec's Galentine's Day episode with a Peacock subscription.
Your Daily Blend of Entertainment News
Riley Utley is a Weekend Editor at CinemaBlend. She spent many years working in local journalism across the country writing about art, news and sports. One of her favorite films is When Harry Met Sally and she walks around constantly quoting Ted Lasso.