Shemar Moore Honors His Late Mother In Heartfelt Post With His Newborn: 'Momma's Dream Is Now Reality'
Shemar Moore is paying tribute to his mother.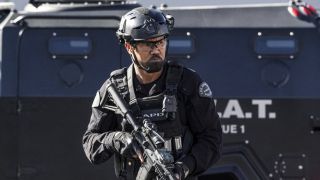 (Image credit: CBS)
Shemar Moore has a lot to celebrate these days, as the S.W.A.T. star became a father in January at 52 years old. After news of his baby girl broke, he opened up about fulfilling his late mother's wishes, who died in early 2020. Now, that Baby Moore is here, the actor is honoring his mom in a sweet and heartfelt post that has the potential to make just about anyone tear up.
On the anniversary of his mother's death and what would have been his baby's due date, Shemar Moore took to Instagram to share a very heartfelt message, along with a sweet photo of his growing family. The post was a tribute to his mother, and he discussed making her dreams a reality. It only makes me wish that she was there in person to celebrate with him:
It's definitely emotional to see how much Shemar Moore misses his mother since it's clear they were very close. However, the fact that little Frankie was brought into the world just before the anniversary of her grandmother's passing shows that miracles do happen, and Moore isn't taking it lightly. Even though she isn't here to see her granddaughter grow up, I can only imagine how much the actor will keep his mother's memories alive by telling his baby girl all about her.
Since Moore celebrated his 52nd birthday last year, it almost seemed like his chance to have a baby had passed. Luckily, it happened coincidentally at the same time that his S.W.A.T. character Hondo was about to welcome his own baby girl. It should be interesting to see if Moore's experience will bleed into Hondo's or vice versa, but either way, it's surreal to think about how much his life paralleled his character's recently.
Meanwhile, ahead of becoming a father, Shemar Moore shed his dad bod for the Season 6 of S.W.A.T. last year. Now that he is a dad, it makes me curious to see if he will bring it back, though that will likely be once S.W.A.T. has wrapped filming for the season. However, he looks though, there will still be fans fawning over him, and maybe even framing shirtless pictures of Moore around their house. He did just become more attractive as a dad, in my opinion, so you never know.
Seeing Shemar Moore keeping his mother's memory alive with his baby girl is just as sweet as ever, especially knowing that he's made one of her dreams come true. Hopefully, we get more posts with baby Frankie in the future, and even more in tribute to his mom, who is definitely with him in spirit. It's never easy losing a loved one, but when miracles and coincidences include your daughter being born just weeks before the anniversary of your mom's death, it seems like a good sign that everything is OK.
See Moore prepare to be a father in new episodes of S.W.A.T. airing Fridays at 8 p.m. ET on CBS. Also, check out CinemaBlend's 2023 TV schedule to see what else to watch.
Your Daily Blend of Entertainment News
Passionate writer. Obsessed with anything and everything entertainment, specifically movies and television. Can get easily attached to fictional characters.