Succession's Jeremy Strong Opens Up About Leaving Kendall Roy Behind, While HBO Boss Weighs In On The Possibility Of A Spinoff
The Roy family's story might come to an end sometime soon, but does that mean it's the end of Succession?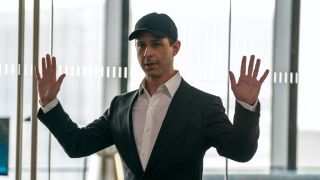 (Image credit: HBO)
In the tenure of every successful show, there comes a time when viewers start to wonder when it is going to sadly come to an end. Succession has kind of reached that point, because as they gear up to premiere Season 4, there are whispers that it could be the final time we see the Roy family. With that rumor spinning around, the show's star Jeremy Strong opened up about eventually saying goodbye to Kendall Roy, and the HBO CEO revealed if there's potential for a spin-off of the extremely popular drama.
One of Succession's executive producers Georgia Pritchett explained to The Times (via NME) that the show will likely go a "maximum" of five seasons. Considering Season 4 is set to premiere soon, both Jeremy Strong and HBO's CEO Casey Bloys weighed in on that idea, and the future of Succession.
Jeremy Strong Opens Up About Leaving Kendall Roy And Succession Someday
Jeremy Strong has been playing the turbulent second-oldest Roy since 2018, and the character of Kendall Roy has become a major part of his life. The actor, who is known for his unconventional acting techniques on the series, and was among the 2020 Emmy winners for his performance on the show, told GQ how he will feel when he says goodbye to his character:
However, while Strong clearly will be impacted by leaving his signature character in the past, he's excited to take on other projects. He explained how he feels about being on Succession while his friends go on to make other movies, saying:
Overall, it sounds like leaving Kendall Roy in the past will be an emotionally complex moment for Strong. And based on Casey Bloys comments about a possible Succession spin-off it seems like when the actor says so long to the fictional billionaire, it will be final.
Could We Get A Succession Spin-Off?
HBO's CEO Casey Bloys talked about the platform's upcoming content, including Succession, and the recent success of the Game of Thrones spin-off House of the Dragon. While the journey back to Westeros ended up being a major hit for the network, the boss made sure to note, spin-offs are not something they plan on doing often. He told Variety:
Bloys continued talking about the future of HBO, and the idea of expanding on shows like Succession. He didn't really entertain it as an option, saying:
With no Succession spin-off in sight, and with the show's ending up in the air, viewers still don't know when the series will come to a close. There have been whispers that this upcoming season might be the last, but Bloys told TV Line "there are no indications" that Season 4 will be the final installment, however, nothing is confirmed.
It seems Jeremy Strong knows the end is coming for Kendall Roy sometime in the next few years, and he has mixed feelings about leaving the character behind. I'd say it's also clear that whenever the actor bids farewell to his character, it will be the end, with no spin-off in sight. However, the show is not over just yet, because Succession Season 4 is set to premiere on the 2023 TV schedule on Sunday, March 26 at 9 p.m. ET on HBO and can be streamed with an HBO Max subscription.
Your Daily Blend of Entertainment News
Riley Utley is a Weekend Editor at CinemaBlend. She spent many years working in local journalism across the country writing about art, news and sports. One of her favorite films is When Harry Met Sally and she walks around constantly quoting Ted Lasso.