Why A Wizards Of Waverly Place Reunion Needs To Happen
Everything is not what it seems.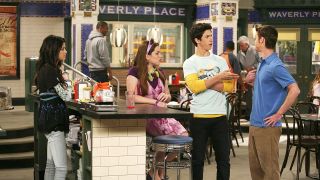 (Image credit: Disney Channel)
If you know me, you'd know I like fantasy. Whether that be some of the best fantasy shows out there to the best fantasy movies, I'm a hardcore fantasy nerd that could spend hours submitting myself to the world of magic, goblins and so much more. I recently watched all the Lord of the Rings movies and loved them, have seen every Harry Potter film, and love any new fantasy show that comes out such as Shadow and Bone or The Witcher. But none of that would have happened if not for Wizards of Waverly Place.
The popular Disney Channel show was a huge hit for the network at the time of its launch. While it also released during the years of Harry Potter, the series was a staple for many children of my generation and would have major premieres for special episodes featuring its fun cast, with the lead, Selena Gomez, charming everyone and making me want to be just like Alex Russo – even if she wasn't the best role model.
It's been ten years since we last saw the cast of Wizards of Waverly Place for their stand-alone television special, and even then the entire cast wasn't there – as David Henrie was off trying to be in more movies at the time. I think it's high-time for us to have another Wizards of Waverly Place reunion, to see all the characters we love come back together, and thanks to the new podcast, Wizards of Waverly Pod (opens in new tab), I now have a new reason to talk about it. Let's get into it.
It Sounds Like The Cast Would Be On Board
This was honestly one of the biggest reasons I even thought about writing this article in the first place, because it sounds like a lot of the cast would be willing to come back for a reunion under the right circumstances.
On the new podcast, Wizards of Waverly Pod, hosted by former cast members Jennifer Stone and David DeLuise, the actress confirmed in episode three that they would love to do a reunion, but that it's a matter of timing and being able to correctly tell a good story.
To be honest, that's not that much of a surprise. Most of the cast has remained in the acting business, with Selena Gomez having a successful career in both music and acting since she's one of the stars of Only Murders in the Building. Jennifer Stone, besides hosting this podcast, works as a nurse. David Henrie is a father now. There are so many factors as to why timing has to be exactly right.
Fantasy Shows Are Having A Renaissance Right Now – It's The Perfect Time To Do A Reunion
I think this is such an obvious reason – fantasy shows right now are having a major renaissance. Now would be the absolute best time to have a reunion special where we get to see all the characters grown up.
It really started with Game of Thrones becoming the massive hit that it did, a show that was released only a year prior to Wizards of Waverly Place ending. But that love for fantasy only continued to grow. Not only do we have House of the Dragon, a spinoff of Game of Thrones, but there are so many other amazing fantasy shows out there that people love to watch.
I'm talking Shadow and Bone, The Witcher, His Dark Materials – hell, you could even count Stranger Things as a dark fantasy almost with its inclusion of Dungeons and Dragons. Fantasy is more popular now than it has ever been and it's because of people like me who grew up watching shows like Wizards of Waverly Place and freaking love magic. Escapism. All of it.
Now would be the absolute best time to revisit the world of the Russos while the interest in magic is there.
It Would Be So Much Fun To See The Russo Kids All Grown Up
I mean, obviously. This is one of the key factors as to why I would want a reunion special. I want to see the Russo kids all grown up!
David Henrie even spoke about the potential a reunion special would have to Entertainment Weekly when promoting a film he directed, saying that he and Gomez had talked about it just for fun, saying they'd love to do it "at the right time" and that he had an idea of what the story would be for them.
This interview was done back in 2020, so it's been some time since then, but I'd still love to see them all in their own worlds.
Not Only That, But They Could Wrap Up Storylines We Never Really Got Answers To
On certain re-watches of the show, I have to admit that there are some parts that sometimes don't sit as well with me because I feel like they haven't been wrapped up properly.
6 Feelings I Had While Watching Selena Gomez: My Mind & Me
Be sure to check out Selena Gomez's personal documentary, My Mind & Me.
For example, I feel like we never got a strong closing to the Justin and Juliette storyline, since both of them didn't show up in the reunion special -- a special one-hour episode that aired a year after the finale, featuring almost all of the Russo family. I would have loved to learn more about the extended Russo family since we never saw their Aunt again after one episode.
I'd also love to see what Max really ended up doing because we find out he didn't get the magic, but we don't see him do much in the reunion special. There are so many stories I would love to see, and a reunion special would really tie everything together.
To Be Honest, I'd Love To See My Favorite TV Mom And Dad Again
There are plenty of great television parents out there that I know people have a strong connection to, but for me, the ones I have always loved were Theresa and Jerry. Those two were the foundation of Disney parents. They were the best ones out there.
Oftentimes with parents in teen shows, whether it be teen dramas or teen comedies, they don't play a big part in the story. They're just sort of there as place holders in my eyes, but I always felt that Jerry and Theresa were the standard for what TV sitcom parents should be. They were hilarious as all hell and made me laugh multiple times, but when the moment required it, they were able to deliver serious emotional scenes that left a heavy impact on me.
Like for example, when Alex broke up with her boyfriend, Mason, I still remember the scene where Theresa comforts and holds her. I will never forget the daddy-daughter dance at Alex's quinceañera. These are moments that truly stuck with me for years on end and I loved them from head to toe – and it's because they were the parents.
While there are plenty of shows out there that have changed my life for the better (or for the worse), Wizards of Waverly Place truly was a staple of my childhood and tween years, and I would love nothing more than to see them reunited as an adult now. While I don't know when it will happen, I will be ready and watching when it does.
Your Daily Blend of Entertainment News
Big nerd and lover of Game of Thrones/A Song of Ice and Fire. Will forever hate season eight. Superhero and horror geek. And please don't debate me on The Last of Us 2, it was amazing!