KofiMania: 6 Reasons Kofi Kingston's WrestleMania 35 Run Was One Of The Best Stories In Modern WWE History
I still have fond memories of KofiMania.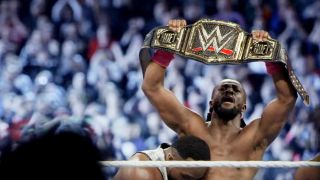 (Image credit: WWE)
Over the years, there have been countless WrestleMania stories that have captured the hearts of wrestling fans around the world. This has been especially true the past decade with all-time great stories like Daniel Bryan finally conquering The Authority to capture the WWE World Heavyweight Championship at WrestleMania 30 and Becky Lynch becoming the first woman to win a main event match when she headlined WrestleMania 35. Though the history books will fondly remember those two underdog stories, one that eclipses them all is KofiMania, which saw longtime WWE journeyman Kofi Kingston become the first African-born WWE Champion.
Like all good wrestling stories, the deciding pinfall of WWE Champion Daniel Bryan and emotional post-match celebration was just part of Kingston's remarkable, inspirational, and gratifying story. Here are six reasons why I think KofiMania is one of the best stories in modern WWE history.
Kofi Kingston's Quest For The WWE Title Had Such An Organic Feeling To It
The craziest thing about KofiMania is the fact that it wasn't originally supposed to happen in the first place. If it were not for Mustafa Ali suffering an injury and being forced to pull out of the Elimination Chamber match in February 2019, Kingston wouldn't have earned a spot in the multi-man match that would end with him becoming a fan-favorite to take the WWE title off Daniel Bryan, who was in the middle of perhaps his best heel run at the time.
This decision to put Kingston in that spot resulted in one of the most organic stories in modern WWE history and the crowd was behind it. Sure, Kingston had long been a beloved wrestler with tons of support from the WWE Universe, but never in his 11 years with the company had his story resonated with the fans as much as it did with the birth of KofiMania.
The Odds Were Stacked Against Kofi Kingston, But He Just Kept Finding Ways To Overcome Them
You would think that Kofi Kingston's stellar performance in the Elimination Chamber, where he came up just short of capturing the WWE title, would be enough to earn a title match at WrestleMania 35, but this was just the beginning. In between Kingston and his first singles match at WrestleMania and first ever one-on-one match for the WWE Championship was just about every obstacle imaginable.
One of the biggest of those obstacles came in March 2019 when, after a title opportunity was taken away from him, Kingston was put in a five-man gauntlet match where he had to defeat Sheamus, Cesaro, Rowan, Samoa Joe, and Randy Orton in a single night. Kingston pulled off the impossible and beat each man, only for Vince McMahon to push back the goalpost and insert Daniel Bryan as a final opponent, who would go on to beat the worn out wrestler. After that, it was up to Kingston's New Day stablemates, Big E and Xaiver Woods, to win a tag team gauntlet match, which they did, earning their longtime friend a WWE Championship match at WrestleMania.
Daniel Bryan Was The Perfect Antagonist In Kofi Kingston's Empowering Story
One thing that's crazy to think about with KofiMania is the fact that Daniel Bryan was in a very similar position five years earlier with his feud with The Authority, which concluded with his two-match performance at WrestleMania 30 (he appeared in both the opening match against Triple H and the electrifying main event against Randy Orton and Batista). But now, at WrestleMania 35, the "Yes! Champion" was in the role of the gatekeeping heel trying his damnedest to keep the belt off Kofi Kingston.
As much as I love babyface Daniel Bryan, there was nothing that compared to his heel persona, and this version was that at its best. The condescension, the attitude, and the constantly putting up roadblocks not only made Bryan look like one of the company's top heels, the behavior also made Kingston more of a beloved wrestler in the eyes of the fans. You can't root for a babyface if there's no one for him to overcome, Bryan solved that problem and furthered the empowering story.
The Match Itself Was A Work Of Art That Told A Brilliant Story In The Ring
I have gone back and watched the WrestleMania 35 WWE Championship match several times over the years, and it never gets old. Undoubtedly the best match on the card (Dave Meltzer gave it 4.5/5 stars, per ProFightDB), and it's more than deserving of that rating. In fact, it could have very well been a five-star match. From the simple and toned down opening moments, to action spilling outside the ring where the New Day and Daniel Bryan's enforcer, Rowan, occasionally threatened to get into the action, the first half of the match was a clinic.
Then, as the match entered its final stretch, Kofi Kingston began to get the upper hand on the WWE Champion, who had started to adopt a more frantic style after his slow and methodical approach of tearing down his opponent failed to result in a victory. Then, after giving Bryan a taste of his own medicine with a series of kicks to the head, and while a "New Day Rocks" chant spread throughout MetLife Stadium, Kingston pulled out a "Trouble in Paradise" to secure the 1-2-3 and win his first WWE Championship.
Byron Saxton Took The Story To The Next Level With His Impassioned Commentary
Another aspect of KofiMania that made the storyline so impactful was the commentary from Byron Saxton throughout the run-up to WrestleMania and the match itself. Throughout the whole ordeal, Saxton never even attempted to hide his excitement and love of what Kofi Kingston was doing in and out the ring, becoming the challenger's biggest supporter. After the match, when Kingston was hoisting the WWE Championship above his head, Saxton yelled out:
More than a year later, when Saxton was appearing on The New Day Podcast, Kingston thanked him for everything he did during the KofiMania run, saying that it couldn't have been anyone else in that position before saying he could never thank him enough.
Kofi Kingston's WWE Title Celebration Was Incredibly Emotional
After spending more than a decade in professional wrestling and never getting a proper singles push for the WWE Championship, Kofi Kingston finally captured the gold and celebrated in one of the most emotionally-charged post-match segments in modern WWE history. From Xaiver Woods and Big E bringing out the new WWE title, to a few dozen WWE superstars celebrating backstage, to tens of thousands of fans screaming at the top of their lungs, to Kingston's two sons joining him in the ring, there was a lot going on.
At long last, Kingston had accomplished his goals, achieved his dreams, and become a WWE Champion no one will ever forget.
If you want to know how Kofi Kingston handled becoming the first African-born WWE Champion, now would be a good time to check out the WWE 24 episode "Kofi Kingston: The Year of Return," which is one of the many wrestling documentaries on Peacock, the home of all upcoming WWE events and much more.
Your Daily Blend of Entertainment News
Philip grew up in Louisiana (not New Orleans) before moving to St. Louis after graduating from Louisiana State University-Shreveport. When he's not writing about movies or television, Philip can be found being chased by his three kids, telling his dogs to stop yelling at the mailman, or yelling about professional wrestling to his wife. If the stars properly align, he will talk about For Love Of The Game being the best baseball movie of all time.