Witness The Apocalypse When Supernatural's Fifth Season Hits Blu-Ray And DVD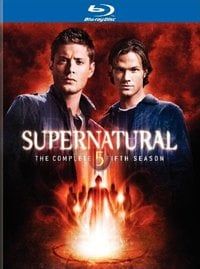 This season of Supernatural was the darkest yet. Which kind of makes sense, given that the Brothers Winchester were facing the apocalypse. And not the pansy-ass kind with melting polar ice caps or angry Mayans or homicidal trees, either; the plague-spreading, seal-breaking, dead-rising, wrath-pouring Biblical smackdown between God and the Devil (who looks a lot like Jacob from Lost).
After years of shooting monsters and confronting demons both literal and figurative, Sam and Dean literally had the fate of the world on their shoulders. Despite those lofty stakes, this season succeeded -- and became the best season yet -- by presenting a cosmic-scale story that ultimately boiled down to the same thing the show has been about all along: family. Even better, it wrapped things up in a lyrical finale that would have worked perfectly as a series finale, but is only more beguiling with the knowledge that there's more story to come. I have no clue where new showrunner Sera Gamble plans on taking the series, but I can't wait to find out.
In the mean time, you can be damn sure I'll be adding the Blu-ray version of season five to my collection come September 7th. If you've never jumped on board the Supernatural bandwagon, season five will likely prove too daunting an entry point; how fortuitous for you that they just re-released the first season on Blu-ray!
Supernatural: The Complete Fifth Season Bonus Features
Supernatural: Apocalypse Survival Guides -- Bobby's Exclusive Video Collection
Ghostfacers: The Web Series
Producer/Writer Commentary on Episode 4, "The End"
Unaired Scene from Episode 9, "The Real Ghostbusters"
Gag Reel
Your Daily Blend of Entertainment News
Thank you for signing up to CinemaBlend. You will receive a verification email shortly.
There was a problem. Please refresh the page and try again.