007 James Bond Games No Longer Available For Digital Distribution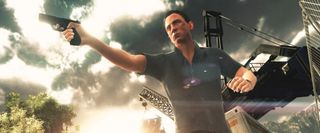 Been in the mood to play some 007 titles on PC? Well, you can't. Why? Because the publishing license has purportedly been revoked and Activision can longer sell the titles digitally, which means if you were planning on purchasing 007: Blood Stone or Quantum of Solace via digital distribution, you're fresh out of luck...because you can't.
A quick search on Steam, Impulse or any other digital portal will verify the disappearance of the titles, and as reported on Neogamr [via Blues] it all seems to point to a licensing issue, no different than what happened with GTA: Vice City and those licensed music tracks that had to be removed before the game could become available for digital distribution again.
There's really no verification as of yet (and probably won't be until Monday) whether Activision's publishing license had run out for 007 titles or if it was due to some other clandestine licensing issue that hasn't been disclosed yet.
The thing that really yanks my yoinkers is that this kind of product hostage-taking by license holders really doesn't bold well for the future of digital video game distribution. While it's convenient and cheap, the bigger problem is that if you don't get a game within a certain time period it can just as easily disappear for good and stay gone from any sort of legitimate distribution portal for all of eternity (i.e., Hitman: Contracts).
This is a tricky situation because as much as we hear about the evils of piracy, could you imagine if the pirate scene didn't exist? Right now it's the only way to get hold of gams like Hitman: Contracts (digitally) or any 007 PC title from Activision.
Hopefully things get sorted. While my take on most of Activision's 007 games hasn't been very positive – with their only decent outing being Blood Stone – it's still a real disservice to the community that these games are no longer available...for now.
Your Daily Blend of Entertainment News
Staff Writer at CinemaBlend.
Your Daily Blend of Entertainment News
Thank you for signing up to CinemaBlend. You will receive a verification email shortly.
There was a problem. Please refresh the page and try again.