Major Titanfall 2 Leak Unveils Six New Titans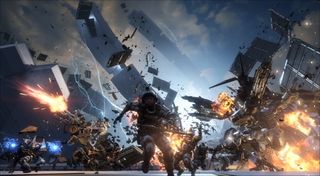 (Image credit: Electronic Arts)
Some of Electronic Arts' press materials for their E3-oriented EA Play live-stream managed to leak ahead of schedule. The rehearsals was made live and some of the assets were leaked, revealing details about Titanfall 2 and some of the new Titans players will control in the game.
According to Game Informer, the leaked assets were quickly cleaned up by Electronic Arts, but not before gamers with quick fingers and keen eyes managed to glean some information from the rehearsals. The article notes that there will be six new playable Titans featured in Titanfall 2, but their names and abilities weren't detailed from the leak. According to developers Respawn Entertainment, the new Titans will have all new abilities and skills, each of them tuned differently for different play-style effects. It's definitely an increase over the few Titans that were available in the original Titanfall.
In addition to revealing that there will be six new Titans, the leaked rehearsals also revealed that Titanfall 2 is due to release on October 28th for the Xbox One, PS4 and PC. It's an extremely close release date to EA's other big title, Battlefield 1. Essentially they seem to be hoping to pressure gamers into making the choice of either Call of Duty: Infinite Warfare or their two first-person shooter titles. Given that Call of Duty is launching at the beginning of November, it's looking as if EA is hoping to cannibalize the sales within the first-person shooter market. And since Infinite Warfare's pre-orders have reportedly been a lot lower than expected, EA's plan just might come to fruition.
But that wasn't the only thing leaked. Given that the rehearsals were out there and that gamers were looking to get eyes and ears on more Titanfall 2 content, the company let loose the single-player campaign trailer, which you can check out below.
The trailer reveals that the Titans can work autonomously from their pilots, so much so that they must follow their directives and at the same time they can also perform various actions to help out during combat or attempt to save their pilot.
In Titanfall 2, players will follow the journey of a Titan and his pilot, as they engage in combat across various war fronts on alien planets. The story seems to be the exact sort of thing that helped put the original Infinity Ward on the map with the first two Call of Duty: Modern Warfare games. Now that the ex-members of Infinity Ward have formed Respawn Entertainment, their pedigree and storytelling abilities are already shining through greatly with the trailer for Titanfall 2.
During the EA Play press conference we'll also get to see some of the game's multiplayer features, as well as details on how some of the new Titans work and their roles in the world of the sci-fi shooter.
Many of the first game's features are also making a return, including stealth kills, wall-running, jump-packs and melee combat. You can expect to learn more about Titanfall 2 during the EA Play press conference, which gets underway at 1PM PST.
Staff Writer at CinemaBlend.
Your Daily Blend of Entertainment News
Thank you for signing up to CinemaBlend. You will receive a verification email shortly.
There was a problem. Please refresh the page and try again.