Here's All The Free Xbox Games Available For Live Gold Members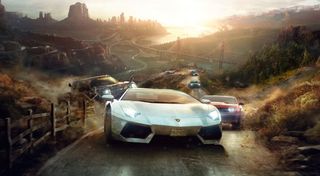 (Image credit: Ubisoft)
During the middle of the month Microsoft has a refresh on the free games made available to those with Xbox Live Gold. During their Games With Gold promotion for the month of June, The Crew and XCOM: Enemy Unknown have been made available for Xbox One and Xbox 360 owners.
Gamespot did a quick write-up about the new games being made available for Xbox Live Gold subscribers. During the early part of June Xbox One owners had free access to Goat Simulator, while Xbox 360 owners had access to Super Meat Boy.
Following festivities of E3, Microsoft made The Crew and XCOM: Enemy Unknown available to Xbox One and Xbox 360 owners, respectively. This keeps in line with their tradition of having four free games a month, with two being made available at the start of the month and two more being made available at the end of the month.
Lately Microsoft has been on a role when it comes to selecting top-tier titles to give away for free. They've been mixing and matching AAA titles with indie games, giving gamers who are signed up with Xbox Live a lot of great content to add to their library. The best part about it is that unlike PlayStation Plus those who get the free Games With Gold get to keep their titles even after their Xbox Live gold subscription runs out. It's a gesture from Microsoft to help lure in more gamers and give them a sense of value with Xbox Live.
While paying for multiplayer is still clearly frowned upon by most PC gamers, the added bonus of having four free games a month kind of makes up for it. In addition to this, Xbox One owners get the added benefit of having access to Xbox 360 games that are available via backwards compatibility. So even if you don't own an Xbox 360, you still get to add those Xbox 360 titles to your Xbox One library due to backwards compatibility.
What's more is that Microsoft has plans on further expanding the Xbox One's backwards compatible functionality, with their latest update making it possible to play multi-disc Xbox 360 games. This means that the original Mass Effect and Lost Odyssey could soon be joining the fray as backwards compatible titles. It opens the door for some truly unique additions to Microsoft's latest console.
A lot of gamers are also geeked because it means that if the Xbox Scorpio can still make use of the Xbox One's library, then it can still make use of backwards compatible titles. We'll see how well this all turns out when the new system launches in 2017 next year. For now, gamers will be able to look forward to the slimmed down Xbox One S, which is due for release in a couple of months, and hopefully more of Rockstar and Activision games are made available by backwards compatibility heading into the fall season.
We're all still waiting on Microsoft to pull the trigger on backwards compatibility support for Red Dead Redemption and Red Dead Redemption: Undead Nightmare. In the meantime you can grab The Crew for free up until July 15th and XCOM: Enemy Unknown for free up until June 30th.
Your Daily Blend of Entertainment News
Staff Writer at CinemaBlend.