How To Request Locations For PokeStops And Gyms In Pokemon Go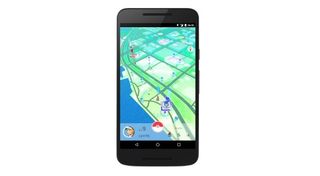 (Image credit: Niantic Labs)
Not everyone lives in a bustling city full of live, landmarks and memorable locations to make Pokemon Go an exciting and adventurous experience. Some people are trapped out in the middle of nowhere with few places to visit and almost no recognizable shops around. Well, for those people living in the wild lands, there's a way to get a PokeStop and Gym to come to you.
Kotaku is reporting that Niantic Labs is expanding their implementation of PokeStops and Gyms to potentially make their way to a location near you. The developers have opened up a support page for Pokemon Go over on their official website where gamers can submit a request for PokeStops or Gyms to be added nearby where they live.
The request form keeps it simple, with a line for the e-mail address, subject and a small text box for additional info and the reason for the request. Some of the reasons actually address issues pointed out by those like the United Kingdom's NSPCC, the National Society for the Prevention of Cruelty to Children organization, which reprimanded Niantic for not taking better care in restricting dangerous locations from appearing in Pokemon Go.
Well, if you feel as if a location in your neck of the woods is potentially dangerous, you can list that as the reason for possible exclusion from the popular mobile app. You can also inform Niantic Labs about a Pokemon Gym not existing or a PokeStop having issues. You can input the exact name of the PokeStop as well as the address or the GPS location to help give Niantic a heads-up on where they should direct their attention in addressing the issue.
Alternatively, you can let the developers know that there are no PokeStops or Gyms near your location. I assume they'll attempt to add a supplemental Gym or PokeStop so you can easily replenish your wares and stock up on items without having to travel very far to do so. In fact, I feel very sorry for the people playing Pokemon Go out in Alaska because there are long stretches of nothing that probably make it very difficult to travel to PokeStops regularly.
One of the more interesting options on the list is actually a question... a question that asks "How do I create a new PokeStop/Gym". I don't know if Niantic Labs is actually responding to this particular inquiry but it probably doesn't hurt to ask.
Given the scope of something like Pokemon Go, it doesn't seem convenient or likely that they would want to individually add or remove Gyms and PokeStops in Pokemon Go for every single city around the world. The time it would take to do that seems overwhelming. In some special cases they might individually step in but I do wonder if Niantic will create tools or algorithms to address the issue? Such as a PokeStop receiving enough "Reports" would eventually get it barred or banned from popping up in Pokemon Go.
If they do plan on manually adding or removing specific locations from the app, they're going to need a dedicated team on the job. I wonder if that's something that Nintendo is willing to invest in or if they'll attempt to find a more automated solution to the problem? I suppose we'll see how Niantic Labs deals with some of the requests using their support form before jumping to any conclusions.
Your Daily Blend of Entertainment News
Staff Writer at CinemaBlend.