One Girl Is Offering Her Pokemon Go Service For Very Busy People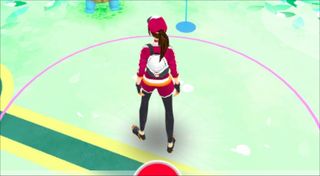 (Image credit: Nintendo)
A 24-year-old out of New York City who goes by the handle of Golbat, is offering her services via Craigslist to capture Pokemon for you in Pokemon Go if you're too busy to do it yourself. Yes, this is a real thing.
Askmen is reporting that Golbat will train up your Pokemon for you, travel to various places around the New York region and generally level-up your trainer between one and four hours a day for $20 an hour. Golbat is no pushover, though. The article reports that she's not into any funny business and if you try anything she can defend herself.
After meeting and setting up the hours, essentially gamers will pay Golbat to go around and collect Pokemon in Pokemon Go, or hatch some eggs for them. While it might seem kind of ridiculous to pay someone to do it, people have been coming up with all sorts of crazy means to hatch eggs in Pokemon Go, including strapping their phones to fans.
Golbat also mentioned in the post that she would send customer relevant, hourly updates to let them know how she's progressing with the training...
I tried accessing the post to see what other details were available but the Craigslist entry appears to be deleted at the moment. She could have taken it down to make some modifications and posted it up under a different heading. It was listed under the Manhattan services tab under "skilled trade services".
Essentially gamers would give Golbat access to their Pokemon Go account and she would do all the heavy lifting.
Golbat's services managed to make it across the web both far and wide, getting picked up by a number of high profile news outlets. It's possible she was bombarded with a lot of calls and decided to remove the listing for now. Askmen was reporting that the young Pokemon trainer-for-hire was actually offering up her services while in between jobs. She's a freelance journalist.
Given the popularity of Pokemon Go at the moment, I wouldn't be surprised if we see lots of other young people take up the reins of entrepreneurship and pursue making a few quick bucks as a Pokemon trainer mercenary. A few bucks here or there to catch and level-up Pokemon for people too busy to play.
These sort of services are quite popular in the realm of MMOs, where people pay what's called "gold farmers" to either add a ton of gold and resources to a character's profile, or level them up and make them strong. These services are extremely popular with the bigger, more grind-heavy MMOs due to the time commitments required to get good and get strong.
It's just funny that 20 years ago young kids offered their services to shovel snow, cut the lawn or babysit. These days kids are offering to play Pokemon Go for you and get exercise by traveling around town so you don't have to. Ah, how times have changed.
Your Daily Blend of Entertainment News
Staff Writer at CinemaBlend.