A New Astro Boy Game is Coming, Get The Details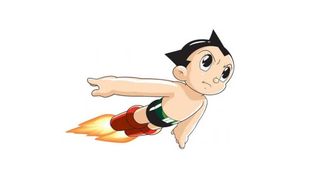 Osama Tezuka's Astro Boy and other works are being revived in the form of Astro Boy: Edge of Time. It's a new collectible card and battle game designed to tell the final story of Tezuka's universe through the form of CCG for PC and mobile devices.
The pitch video above [via Worth Playing] was posted up along with other details about Astro Boy: Edge of Time on the game's official Kickstarter page.
The group, Project Atom, are currently seeking $50,000 to help bring the new Astro Boy project to life, giving gamers and fans of manga the opportunity to experience one of Japan's most famous exports, either to relive the adventures of the cyborg hero or to experience it for the very first time.
According to the pitch video, gamers will be able to collect cards from across the Tezuka universe, including characters from the Star System universe such as Magma. They show how the character was originally drawn in the old Astro Boy manga comic books, and then show how the updated Magma looks for the Edge of Time game, and oh boy is it a huge difference. The detail and articulation of bringing these fantastical characters to life is pretty astounding and very impressive. Magma, in particular looks like he's had somewhat of a cyberpunk makeover, which his pretty cool.
Other characters like Saburota have also been upgraded for today's generation of gaming, with NekoshowguN (an artist on Lollipop Chainsaw) illustrating the samurai for the new era.
The game isn't just a standard collectible card title. They have plans on including a fully fleshed out story mode where players will take on the role of a summoner who can use the card constructs to battle against the forces of evil while attempting to find the missing Astro Boy.
Throughout the story, which will be told through visual novel-style cut-scenes, players will meet various Tezuka characters from the Tezuka universe.
In addition to the story mode the game will also have a multiplayer battle mode, where players can take their card sets and head online to face off against other players. Just like with Blizzard's Hearthstone or Magic: The Gathering, players will be able to stack their attacks, use combos and strategically overpower their opponents.
According to the Kickstarter page, players will be able to build a deck of up to 30 different cards, utilizing defensive and offensive properties in order to get a leg up on the competition. The various cards have different levels and skills, some of which are passive and others that are active. The card designs contain some exceptionally detailed art, giving gamers and manga fans alike something spiffy to look at while they play.
An all-star team of artists and designers from within and around the anime and manga universe are collectively working under the Project Atom banner to help bring this new Astro Boy project to life.
If funding is successful for the Kickstarter,, you can expect to see the game arrive in some capacity by March, 2017.
Staff Writer at CinemaBlend.
Your Daily Blend of Entertainment News
Thank you for signing up to CinemaBlend. You will receive a verification email shortly.
There was a problem. Please refresh the page and try again.