Here's How Titanfall 2 Will Run On A PS4 Pro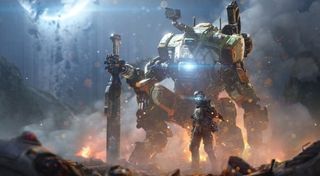 (Image credit: Respawn Entertainment)
There is a lot of excitement for the PS4 Pro and Respawn Entertainment's upcoming Titanfall 2. Both products are nearing release and gamers are anxious to find out how Titanfall 2 will run on a PS4 Pro. Well, we finally got an answer.
Stevivor managed to get in a word with Respawn Entertainment executive producer Drew McCoy, who confirmed that while the game won't be running at native 4K resolution on the PS4 Pro, it will see some upgrades over the release on the vanilla PS4...
McCoy explains that they didn't get much lead time to work on Titanfall 2 for the PS4 Pro because the announcement kind of took them by surprise, but they were still willing to make some minor tweaks to give the PS4 Pro users slightly more stable frame-rates, a more stable dynamic resolution that keeps at 1080p and higher resolution shadows for the Titans and the soldiers on the ground.
What's really interesting is that McCoy brings up that the tweaks to Titanfall 2 on the PS4 Pro are similar to the tweaks made for the PC version of the game. Obviously, PC gamers get the best version in terms of graphics output (assuming they have a rig that can handle it) but McCoy acknowledges that they used the paradigm of graphics options for the PC version to make the PS4 Pro version of the game slightly better.
McCoy stated that no matter what, there is no way the game will look or run worse on the PS4 Pro since it's already fine-tuned for the PS4, just made to look and run slightly better.
In addition to the standard Titanfall 2 promotion, McCoy was also peppered with a question about native 4K resolution. One of the prime talking points of the PS4 Pro was that it would allow for 4K gaming. Most hardware enthusiasts and PC gamers scoffed at this proposition because 4K gaming is extremely expensive to run games at their highest settings and get them above 60fps. It requires a lot of GPU processing power and most gamers use dual or triple cards to achieve high frame rates at 4K.
According to McCoy, he doubts that will be seeing native 4K AAA games regularly on the PS4 Pro. In fact, he says he would be surprised if any popped up anytime soon. We don't quite have AAA games running on ultra settings at or above 60fps on the highest end single-card PCs, so that's definitely a pipe dream for home consoles unless they make some serious concessions to the graphics in order to achieve that 4K dream.
Nevertheless, Titanfall 2 is set to run at native 1080p at 60fps on home consoles, and the minimum specs on PC are even fine tuned for 1080p at 60fps. Respawn optimized the crap out of the game so PC gamers will be able to run the game on the ultra settings at native 4K. They didn't run any open beta tests for PC gamers, so we'll have to wait until October 28th to find out how well the game benchmarks. On the plus side, at least PS4 Pro gamers can look forward to a slightly smoother and cleaner experience over their vanilla PS4 counterparts.
Your Daily Blend of Entertainment News
Staff Writer at CinemaBlend.