The Next Batch Of Twitch Prime Loot Will Boost Your Watch Dogs 2 Game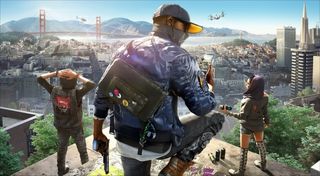 (Image credit: Ubisoft)
Twitch Prime is the new service from Amazon that ties into the Amazon Prime directive. They offer a lot of goodies for people who sign up for the Prime service, and for a limited time these goodies extend to Watch Dogs 2.
Over on the Twitch blog they announced that several games are getting the Twitch Prime treatment, including Ubisoft's upcoming open-world hacktion game, Watch Dogs 2. Between November 7th and December 12th you'll be able to gain access to a Twitch-themed hoodie for the character Marcus Holloway. The hoodie is purple with the Twitch icon on the left upper breast, and there's a Twitch logo on the back in traditional format with wings curled up on the left and right of the words.
That's not all, though. There's an experience point bonus boost for being a Twitch Prime member. The bundled pack for Watch Dogs 2 will allow you to earn extra XP while performing and completing both main quests and side missions.
A Pixel Art customization pack is also included. This will give you the ability to add the packed layers onto the liveries of Character clothing, vehicles, the personalized drone and the 3D printed weapons. An additional Guts, Grit and Liberty customization pack is also included. Twitch Prime even tries to further sweeten the deal by offering a 20% discount for Prime members who pre-order the physical version of the game from Amazon for the Xbox One or PS4 within the U.S.
They rolled out some other deals, too, including This War of Mine: Anniversary Edition, and a free copy of the strategy fighting game, Punch Club. Both games are free for Twitch Prime users during the fall. They don't say exactly how long they will be available for free, but it's likely that it will last up until winter.
This is basically Amazon's way of competing with PlayStation Plus, Xbox's Games With Gold and every single Steam sale that happens more often than I can count. Whether or not it's winning gamers over has yet to be determined, but it shows that Amazon is serious about growing the Twitch brand.
Partnering up with big publishers like Ubisoft for games like Watch Dogs 2 is a fine way of expanding their role in the world of gaming, and it will likely get a few gamers to bite on the deals that they're offering.
Watch Dogs 2 is an interesting game for them to latch onto given that it's been promoted quite a bit by Ubisoft. However, it would have seemed like they would have wanted to go for games that people are more universally excited about, such as Titanfall 2 or Battlefield 1. Those latter two haven't been quite as over-hyped as previous AAA games but the feedback from the community has almost been nothing but positive.
Nevertheless, Twitch is probably banking on Watch Dogs 2 selling just north of 6 million like its predecessor during the first quarter, so they wanted to hook onto a sure bet. We'll see if things work out for the Twitch Prime initiative when Ubisoft's hack-and-shoot action title releases on November 15th.
Your Daily Blend of Entertainment News
Staff Writer at CinemaBlend.