This Majora's Mask Animated Short Is The Most Amazing Thing You'll See All Day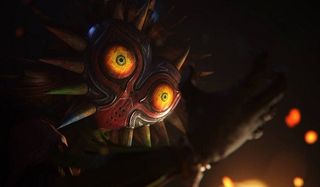 You ever wonder how the character Skull Kid came to be in The Legend of Zelda: Majora's Mask? Well, a fan-made short film has offered an answer, and it's absolutely fantastic. Get ready to clap your peepers on the beautifully animated Majora's Mask: Terrible Fate.
We absolutely love fan projects like these because, plain and simple, they're driven by passion. The folks over at EmberLab clearly have a love for Majora's Mask and all things Legend of Zelda, which led to them pouring an untold amount of time and talent into this amazing project. The results, of course, speak for themselves.
Over on the original post, very little background is offered on the film outside of the fact that it tells "Skull Kid's dark origin story." They also add that this is their idea of how the Zelda universe could be realized in film, and we're behind that idea 100 percent. This thing is less than five minutes long and already we want to see boatloads more.
There's lots of talk these days about a Legend of Zelda live-action project. While we'd certainly take whatever we can get at this point, Terrible Fate makes a strong argument for an animated feature, one that can capture the look and feel of the video game series' universe without feeling like Game of Thrones with a Master Sword. There's something fantastical about the style of animation used in this short film, and we think it captures the spirit of Zelda perfectly.
This also speaks volumes for what a dedicated team of independent creators can do these days. We've all heard of small teams building fantastic games at this point, but we'd call this animation movie theater quality, and the whole shebang was orchestrated by like a dozen folks. It's impressive, and we can't even imagine what they would be capable of with some actual resources thrown their way. Again, this is a fan project for a licensed property, so they aren't making a dime off of Terrible Fate.
Of course, there may still be a problem for the short film's creators because, well, they made something involving a Nintendo IP. Nintendo has really been cracking down on these types of fan projects as of late, recently causing trouble for games based on the Pokemon and Metroid universes. It's a tricky bit of gray area. Again, nobody is making money off of these things, but that doesn't take away from the fact that folks are utilizing licensed properties, the owners of which have every right to protect them how they see fit.
Here's hoping they allow Terrible Fate to just linger, though. We think it's a wonderful piece of tribute that, if anything, makes us want to play Majora's Mask again.
Your Daily Blend of Entertainment News
Staff Writer for CinemaBlend.