Here's When Steam's Winter Sale Will Begin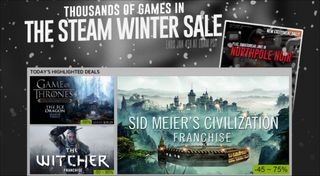 (Image credit: Valve)
The Steam Winter Sale is prepping to get underway, just after the Steam Autumn Sale took place not too long ago. There were some good deals going around on some great games. And with the Winter Sale date fast approaching, it's best you've prepped your wallet for the massive savings.
Eurogamer is reporting that they've confirmed with a source that the Steam Winter Sale date is set to get underway December 22nd and it will end on January 2nd. They claim that they managed to confirm this news separately from a post that was made on NeoGaf that also confirmed that the Steam Winter Sale would get underway on December 22nd. That's two pieces of confirmation that the Steam Winter Sale will start just ahead of Christmas, giving gamers an opportunity to not only buy some games for themselves, but also gift some goodies to friends and family as well for a nice little holiday surprise.
Of course, we have no idea what's going to be on sale or discounted during this holiday sale. The Steam Autumn Sale had some okay games discounted, but nothing quite like a few years back. This latest sale was mostly just some expected games discounted between 30% and 75% off. There were a few rare gems that escalated to the 85% off range but most were just under that.
The Steam Winter Sale is usually when all the big boys come out to play, knocking off the price points by 50% off to a whopping 95% off. There have been many indie games slashed in price in order to lure in newcomers and old-schoolers alike, but expect more of the AAA titles to get the discount treatment this time around.
With new titles like Dishonored 2 and Watch Dogs 2 now out and available on Steam, you're likely going to see those games moving awfully fast. I doubt they'll move fast enough to run out of Steam keys, which only happens ever so rarely, but they're big games so expect big movement.
Then there are other hard hitters like Call of Duty: Infinite Warfare, which will also likely see a price cut here or there just to get a few more thousand people playing and engaging in Infinity Ward and Activision's latest sci-fi, first-person shooter space romp.
Unfortunately, both Titanfall 2 and Battlefield 1 are not available on Steam due to being exclusive to EA's Origin platform. This severely limits the amount of sales that EA will be able to get out of both games on PC, but they seem to be pushing the Origin platform heavily enough that they feel as if they can do without giving Valve their 30% cut by placing their game on Steam.
A game that isn't exclusive to some other platform and is likely to get a hefty discount is the sales juggernaut, Grand Theft Auto V. Rockstar Games' title has been an absolute force on the marketplace and a deep discount on the aging title will likely lure in anyone who hasn't already given the game a go.
You can expect to see the sales get underway later this month in just a few week's time on December 22nd, right before Christmas.
Staff Writer at CinemaBlend.
Your Daily Blend of Entertainment News
Thank you for signing up to CinemaBlend. You will receive a verification email shortly.
There was a problem. Please refresh the page and try again.