Why Mads Mikkelsen Decided To Work With Hideo Kojima On Death Stranding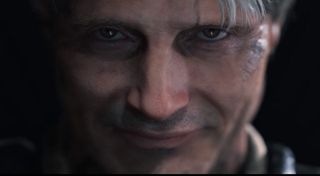 (Image credit: Kojima Productions)
One of the big surprises that was revealed during the in-engine cinematic trailer of Death Stranding that aired during The Game Awards this year was that veteran actor Mads Mikkelsen would be starring in the game alongside Norman Reedus. Well, Mads explained why he decided to work with Hideo Kojima on Death Stranding.
In a short clip posted in a video on IGN, Mikkelsen was asked why he joined the project and he had this to say about Hideo Kojima...
The Kasparov that Mikkelsen is referring to is Russian grandmaster chess player, Garry Kasparov. A quick Google search brings up blurbs that wax poetic on Kasparov's intellect, smarts and skill as one of the greatest champion chess players of all time.
It's high praise from Mikkelsen toward Kojima, comparing him to a great like Kasparov. Some have compared Kojima to the likes of Stanley Kubrick, which seems like an apt comparison despite the generational tone shift in the way they present their work.
Then again, I'm pretty sure if Kubrick was still with us he would have some interesting things to say about Kojima. Heck, a team-up between the two on a project would be monumental.
But for now, Kojima is solo-directing Death Stranding, with the two leads being Norman Reedus and Mads Mikkelsen. He confirmed during the sit-down conversation at this past year's PlayStation Experience in Anaheim, California that director Guillermo del Toro would also be starring in the game, but his character would be voiced and acted by someone else.
Mads' role in Death Stranding was hinted at as being the antagonist to Norman Reedus' character. Kojima didn't reveal the names of these characters, nor did he explain the Cthulhu-style elements and powers at their disposal, as hinted at in the Game Awards trailer featuring del Toro running with a baby in a tube and Mikkelsen and his squad in hot pursuit.
One of the things I'm most interested in is the weird time-disparity between the high-tech baby capsule stuff and the somewhat World War II clothing the soldiers are wearing. Their weapons are obviously modern, along with some of their gear, but there's also this old-world vibe about their appearance.
Also, what's up with that tentacle tank sludge? Anyway, I'm really looking forward to seeing more of Mads Mikkelsen in Death Stranding and it's one of the few games that consistently has people talking about it whenever it's mentioned in the slightest in news media.
According to Kojima the game will be a third-person shooter, similar to the likes of Uncharted or The Division. Kojima didn't specify what parts of those games he was taking, and both titles may be third-person shooters but they're vastly different, one being a MMO-style grind-fest and the other being a platforming shooter. I suppose we'll have to wait for the actual gameplay trailer to arrive before we can pinpoint exactly what sort of game it'll be and how it will play out in its final form.
Death Stranding is still a long ways out from release, but, thanks to their use of the Decima Engine, hopefully we won't have to wait too long.
Your Daily Blend of Entertainment News
Staff Writer at CinemaBlend.