Here's When You Can Play Star Wars Battlefront For Free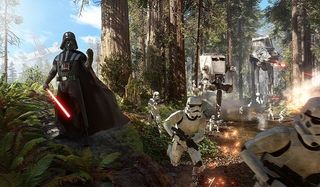 There's only one thing better than Star Wars Battlefront, and that's the ability to play it for free. Your chance to do exactly that is coming up soon, too.
According to a recent tweet from EA Access, Star Wars Battlefront will be joining the program's lineup next week. Starting Dec. 13, folks who subscribe to Access will get to dive into the latest and greatest Star Wars game at no additional charge.
Yes, we agree that this isn't exactly "free" but, if you want to get super technical, you're talking about 10 cents per month to play the game, so it might as well be free. EA Access is the mega-publisher's subscription service that costs $4.99 a month. While not all EA games are included in that subscription plan, a heck of a lot are. From Fifa 16 to Battlefield Hardline, Need for Speed, UFC, Titanfall, Madden, and Plants vs. Zombies Garden Warfare, there's a lot to choose from for just five bucks a month. Battlefront is only a year old at this point and we know a sequel is coming next fall, so that means this is a great time to get in on the action.
Now that all of the game's DLC is basically up and running, now sure seems like a good time to get Battlefront on the Access service. We figure there's another good reason for this timing, too, and that's the fact that Battlefront's launch on the Access service coincides with the launch week for the latest film in the Star Wars film series, Rogue One. That newest movie is also the theme for the final DLC for Battlefront, including a couple of new heroes, new maps, weapons and the like. Basically, there's a big Star Wars love fest going on right now and this latest move from EA is doing a good job of taking advantage of that fact.
All told, the EA Access plan includes more than 35 games and, along with that monthly cost, you could also just get a year's subscription for a discounted $29.99. The only major downside here is that the service is only available on the Xbox and PC, so folks gaming on the PlayStation 4 can't take advantage of the program.
So with Battlefront wrapping up and Battlefield taking a break next year, it sounds to us like EA is going to an every other year system for their big shooters. That could mean that more time and resources are being put into each franchise, so we've got our fingers crossed that maybe a single player campaign will be a part of the game next time around. Either way, we're curious about what our readers want out of the next Battlefront. Give us your wish list in the comments below.
Staff Writer for CinemaBlend.
Your Daily Blend of Entertainment News
Thank you for signing up to CinemaBlend. You will receive a verification email shortly.
There was a problem. Please refresh the page and try again.