Lindsay Lohan's Grand Theft Auto Lawsuit Is Over, Here's What Happened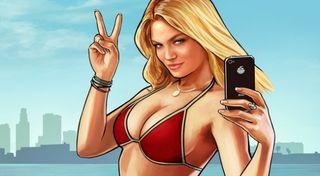 (Image credit: Take-Two Interactive)
For the past two years Lindsay Lohan has been going at it with Take-Two Interactive, one of the big legal juggernauts in the realm of interactive entertainment. Things did not go well for the troubled actress and the judge over the case, and it fell favorably on the side of Take-Two.
According to Polygon, the Supreme Court judge presiding over the case has finally thrown it out on the grounds that Lohan's charges that Take-Two's subsidiary, Rockstar Games, used her likeness for the parody character in GTA V, Lacey Jonas, were unsubstantiated.
The judge stated that the character Lacey Jonas does not share Lohan's name nor does the 3D thespian resemble her in likeness...
This was taking place alongside another lawsuit by reality TV personality Karen Gravano who also claimed that Lacey Jonas was also ripping off her likeness. The judge also threw out Gravano's claims as well.
Most people assumed that the bikini-clad female used to promote GTA V frequently on posters, billboards and featured in the loading screens was based on Kate Upton. Others believed that the buxom beauty was mirrored after former Chuck television star, Yvonne Strahovski. Both Upton and Strahovski definitely share some visual similarities to the literal poster girl for GTA V.
However, similarities between any actress or pop-culture personality was dismissed by the judge. According to the Supreme Court ruling, it's all done for the sake of satire and therefore Take-Two does not have to pay out for using the likeness of anyone...
It seems like satire these days have been lost on a lot of people, resulting in a lot of attempts from certain celebrities to sue. In fact, it's amazing this case went on for as long as it did when there was nothing to go on between the fictional GTA V character and Lindsay Lohan, other than that the fictional character was a troubled actress and celebrity. But if you look at Hollywood, there are a lot of troubled celebrities, especially those who used to be child stars.
Previously, Activision had to deal with former dictators and the relatives of rebel fighters trying to sue for money from the Call of Duty: Black Ops series. While the Call of Duty series actually has used real life likenesses and names in their games based on controversial political figures and activists, the judge still sided with Activision and Treyarch in those cases as well.
Don't be surprised if, when the next GTA game arrives, there are claims from one celebrity or the next saying that their likeness was stolen.
Your Daily Blend of Entertainment News
Staff Writer at CinemaBlend.