Does Breath Of The Wild Contain A Tribute To Satoru Iwata?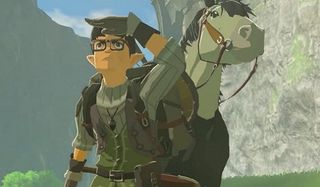 It's not uncommon for game developers to put tributes to fallen loved ones or even members of the community in their games. According to folks playing The Legend of Zelda: Breath of the Wild, it looks like Nintendo may have created just such a tribute to former company president, Satoru Iwata.
Nintendo was smack-dab in the middle of developing Breath of the Wild when Iwata passed, and the team has gone on record discussing how much his presence has been missed around the company. It makes sense, then, that they would want to immortalize him in some fashion within the most ambitious Zelda game to date.
While playing Breath of the Wild, players come across a character that has a certain Iwata look about him. His story arc is touching in and of itself but, once people started connecting the dots, it became even more emotional once the parallel was being drawn between the character and Iwata's passing. The current theory is that this was Nintendo's way of saying goodbye within a game.
Again, since Breath of the Wild is still a new game and some of this could be defined as spoiler material, we're giving you fair warning to avert your eyes if you don't want to see something before you come across it in the game. Youtube user Seaniccus has done a good job of summing everything up in an nice video breakdown of the potential tribute.
We're calling this a "potential tribute" because, as of now, Nintendo has neither confirmed nor denied that the character was intended to look like Iwata or that his events in the game were meant to be read the way fans are currently reading them. Still, it's kind of hard to see it any other way now that it's all been laid out like this.
The character in question is a watcher who goes by the name Botrick. As the video points out, Botrick sends Link to a beautiful vista. Here, a lone cherry blossom tree resides in the Satori mountains. Another reading of that word, as it turns out, is the popular Japanese name meaning enlightenment, Satoru.
On your trek up the mountain in Breath of the Wild, you'll find signs that someone used to live here, including an abandoned campsite and an apple orchard. The biggest hint that this whole thing points to Nintendo's beloved president, however, is a green light that draws you to a certain part of the mountain at night. If you head that direction, you'll wind up at the same vista Botrick points you to earlier in the game. This time, however, you will find yourself surrounded by forest spirits and, at their center, is a creature known as The Lord of the Mountain, a celestial mount.
If you capture a picture of this creature, his description pretty much confirms all of these tribute theories. Along with a nice description for the watchful creature, it explains that he is the reincarnation of a sage who died on the lands it now protects and is sometimes called by his other name, Satori.
Yeah, it's pretty dang touching, and only one of the many magical moments peppered throughout Breath of the Wild.
Your Daily Blend of Entertainment News
Staff Writer for CinemaBlend.