The Original StarCraft Is Getting Remastered, Get The Details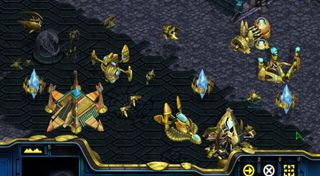 (Image credit: Blizzard Entetainment)
Blizzard Entertainment announced that a remastered version of StarCraft is set to release this summer for PC gamers. The game isn't just getting re-released for today's generation of gamer, they've actually overhauled a lot of the quality of life features and graphics to help give your rig a run for its money.
Over on IGN, they detailed how StarCraft: Remastered will support ultra HD widescreen at 4K resolutions, and will also contain an overhaul of the graphics to accommodate the 4K resolution. They've updated the units, buildings, and the background environments.
As some of you know, if you update and add new resolution options for a game but don't update the assets, what ends up happening is that the game's internal resolution clashes with the monitor's output resolution and you get super high resolutions with a lot of blurry, low-resolution assets.
So to coincide with giving PC gamers super high resolutions they've also decided to give PC gamers super high assets as well. This should give StarCraft a very distinct look on the latest high-end gaming rigs.
They've also updated the illustrations in the game, along with added current generation quality of life features such as cloud saving, replays so you can watch back your performance and matches and study strategies and different techniques, as well as the option to use custom maps.
All of these overhauls have also been carried over into StarCraft's matchmaking, where they've upgraded the multiplayer to make use of the matchmaking features in the game so that players can find and team with friends and rivals alike without any problems.
StarCraft: Remastered will also come with all of the original game's expansion packs, including the Brood War. Blizzard also updated the original Brood War with better anti-cheat measures and a new observer mode.
Even though they've added all this new stuff to the game, one of the things they make known is that the core of StarCraft is still intact. They didn't alter or change the way the game plays, only fixed up the features to make it more aesthetically pleasing and more accommodating to the standards and practices of gaming that most of today's generation have grown accustomed to.
So the actual game will still be the same StarCraft that everyone fell in love with 20 years ago. A lot of gamers have also been hoping for a proper Warcraft remaster as well (and not World of Warcraft, but the actual old-school RTS that really helped put Blizzard on the map back in the 1990s). Given that Blizzard gave a lot of time and attention to StarCraft, it wouldn't be surprising if they plan on doing the same thing with WarCraft at some point. Besides, this was the game series that spawned Defense of the Ancients, which later turned into Valve's Dota 2. There's a lot of history there and it would seem remiss of Blizzard not to bring that bad boy back into the spotlight.
For now StarCraft fans can look forward to the remastered version, which will drop this summer on PC.
Your Daily Blend of Entertainment News
Staff Writer at CinemaBlend.