Watch Dogs 2 Is Getting More Free DLC Than We Thought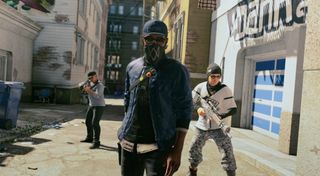 (Image credit: Ubisoft)
Ubisoft still has big plans for Watch Dogs 2. The game hasn't really been appearing much on the top 10 sales charts but they're committed to supporting the open-world hacktion title with a load of new multiplayer content, including more free DLC than we thought it would have.
Over on the official Ubisoft blog they announced that there will be three months of additional free DLC updates. In between this time there will also be premium DLC made available as well. The free DLC, however, will start on April 18th for the PS4, with 13 new clothing items added to Watch Dogs 2, along with an all new paintball rifle and three new multiplayer modes.
It was explained in the blog post that a lot of gamers have been begging Ubisoft for more multiplayer content in Watch Dogs 2, so they're obliging those users with both premium and free content. The three modes that will be available in April includes a pretty big multiplayer mode called Showdown, which was originally going to be part of the premium No Compromise pack but it's going to be free instead. There's also an Armored Truck mode where players will attempt to hack into the armored truck and steal the loot inside. The mode is similar to the armored truck mini-game in Sleeping Dogs, except players will be able to play the mode in online co-op in Watch Dogs 2.
Additionally, they will have new drone, motocross and eKart race modes made available in multiplayer. These modes will see players competing across various courses in an attempt to top the leaderboards. Ubisoft decided to take these modes from the single-player campaign of Watch Dogs 2 and give multiple players in the online portion something to do aside from the missions and standard PvP modes.
Now the Showdown mode. It's a team-based PvP mode for those who already beat the game. It's described as end-game content. Both teams will attempt battle across a dynamic set of objectives spread across different locations, including stealing a hard drive, taking over an area and defending a server. It reminds me of the multi-stage missions in APB: Reloaded.
But the fun doesn't end there. In May, the premium No Compromise DLC -- which features Marcus taking on the Russian mob -- will be made available for Xbox One and PC. In addition to the No Compromise DLC launching on the other two platforms, there will be even more DLC made available, including an added PvP element to the Armored Truck mode, along with another unnamed PvE event for multiplayer, and some tweaks to the leaderboard interface and improvements to the Bounty Hunter mode as well.
June won't have much of anything big to roll out, but it's still something in the multiplayer arena. Watch Dogs 2 will receive a four-player party mode where players can simply travel around and partake in activities with each other. It kind of sounds like a general goof-around mode, but with support for four people instead of the usual two. In a way it's like GTA Online-lite.
If the multiplayer can keep players lured in and playing, then it wouldn't be surprising to see an uptick in sales for Watch Dogs 2, the way Rainbow Six: Siege managed to actually grow its player engagement over the years, a rare feat for a premium-priced game.
You can look for the new multiplayer features for the open-world hacktion game to go live during the middle of April.
Your Daily Blend of Entertainment News
Staff Writer at CinemaBlend.
Your Daily Blend of Entertainment News
Thank you for signing up to CinemaBlend. You will receive a verification email shortly.
There was a problem. Please refresh the page and try again.