Elder Scrolls Legends Has Launched On Steam And More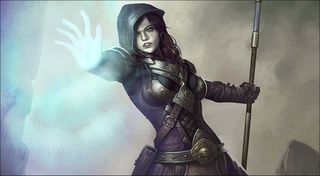 (Image credit: Bethesda)
Bethesda's Elder Scrolls: Legends playing card game was previously limited to the Bethesda Launcher, another digital distribution launcher relegated to Bethesda's own products. Well, the card collecting game has now launched on Steam and other platforms, including Mac, iTunes App Store and the Google Play store.
Gamespot is reporting that the free-to-play card game is available right now for free across multiple PC distribution platforms. Not only that, but Bethesda has even made it possible to carryover your progress from one account to the next. So if you've already begun playing through the Bethesda Launcher, you can keep your account and login details when you decide to switch over to Steam or when playing on MacOS.
Bethesda also relayed that it's possible to switch back and forth between accounts even mid-match. That reminds me of something akin to what you can do with Nintendo Switch games.
For those who register to play The Elder Scrolls: Legends before June 14th they also reveal that you'll be eligible to receive five free card packs. They don't detail exactly what's in the card packs, but they will begin rolling out to users after June 15th.
Elder Scrolls: Legends is developed by Dire Wolf Digital, and it features the ability to play either online or solo in the single-player campaign. If you decide to play on your own you can earn various card packs, build up your own custom deck, and battle against CPU opponents as you learn to get good and master the art of card strategies.
Once you get experienced enough, you can then take your deck-playing prowess online and battle against other players in the PvP mode where you can either play casually or play against opponents in ranked play. There's even the option to play using naked decks, where both players will have to draft their cards from scratch and go in on equal footing.
One of the things that separates The Elder Scrolls: Legends from other games like Hearthstone or Magic: The Gathering is that it was designed to make use of lanes on the board, similar to the likes of how MOBAs such as League of Legends and Dota 2 make use of lanes. This helps give the game an extra layer of strategic depth, and an added way for players to think about how they play their cards and where they play them on the field.
A lot of gamers absolutely love Bethesda's take on the card combat genre, and have compared it frequently to the formula that Blizzard Entertainment perfected with Hearthstone. I do wonder how well this game will measure up against other popular CCGs like Gwent: The Witcher Card Game, which has consistently been gaining more and more popularity over the months.
Anyway, you can grab a free digital copy of The Elder Scrolls: Legends right now from participating digital distributors across PC, Mac and mobile devices. Additionally, if you've already been playing through the Bethesda Launcher and want to continue doing so, you very well can.
Your Daily Blend of Entertainment News
Staff Writer at CinemaBlend.
Your Daily Blend of Entertainment News
Thank you for signing up to CinemaBlend. You will receive a verification email shortly.
There was a problem. Please refresh the page and try again.