American McGee Wants To Make Alice 3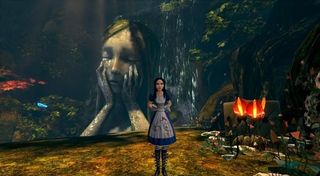 (Image credit: Electronic Arts)
Famed developer American McGee hasn't given up on the Alice series that he created, which was popular way back in the day for PC and later home consoles. In fact, McGee has been putting forth time and effort into lobbying Electronic Arts to collaborate on making a third game in the series to round out the trilogy.
Over on the official American McGee website, there's a short blog post about possibly making a third game, tentatively titled Alice: Asylum. It would follow on the events that took place in Alice: Madness Returns. The idea is to beseech EA to allow a third game to be made after sending them a proposal consisting of artwork, a design flowchart, and outline, along with the financial and business model that could be used to make the project cost effective.
There isn't just a proposal on a blog post, though. McGee wants fans of the series to get proactive by joining the mailing list, which can be done through the form over on the site. McGee also recently sent out a tweet that gained a lot of traction from the gaming community, earning more than 1.6 thousand retweets about lending support for the Alice 3 proposal.
This is something that McGee has been attempting to get done for years. Right now the rights to this particular series are securely situated under Electronic Arts' IP umbrella, and the publisher doesn't seem very intent on letting it go anytime soon.
A lot of big publishers like to keep IP under its wing in case the brand gains some sort of marketable momentum and then usually there's a remake, reboot, or re-release. EA and DICE recently did the same thing with the Star Wars: Battlefront series when EA re-signed with Disney to use the Star Wars IP and then revived the Battlefront series using the Frostbite engine, after letting the series sit on the shelf for a decade.
EA also attempted reboots of old classic franchises as well, such as the cyberpunk series Syndicate. The reboot was a linear, story-driven first-person shooter didn't entirely go over all that well and it quickly faded into obscurity. Don't be surprised if Syndicate pops up again if the upcoming Blade Runner 2049 and CD Projekt Red's Cyberpunk 2077 turn out to be blockbuster hits.
In the case of Alice... the original American McGee's Alice game came bursting onto the scene back in the early 2000s as an action-horror experience that seemed to retain some remnants of the counterculture themes from the 1990s. The game was shelved for a decade and Alice: Madness Returns didn't appear until 2011 for the Xbox 360, PS3 and PC.
If we're to follow the trends of the game's release schedule, we likely won't see another Alice game come out until 2020 or 2021. It's a shame that it takes such a long time to convince EA to make sequels, but that's just how it is at the moment.
For now, McGee is working on the proposal. So we'll see where that ends up and how EA will respond to the proposal for Alice: Asylum.
Your Daily Blend of Entertainment News
Staff Writer at CinemaBlend.